Family Histories of Civil War Participants

---
Do you have an ancestor who served in the Army of the Confederacy, and who is listed in the ROLLS of the SEVERAL MILITARY ORGANIZATIONS which entered the service of the CONFEDERATE STATES OF AMERICA from the CITY OF NATCHEZ AND ADAMS COUNTY MISSISSIPPI?

If so, you are invited to submit a family history of that individual. In the interest of space, we must request that the history be strictly confined to 200 words or less. (Dates, names, and places are counted as one word.) Text only; no queries or GEDCOM. One photo of the subject ancestor will be accepted.

Adams Co, MS and the USGenWeb Project reserves the right to edit or refuse submissions that do not meet requirements, or which are not in keeping with the purpose and/or standards of the USGenWeb Project, and this page. Adams Co, MS and the USGenWeb Project also reserves the right to crop, resize and/or reformat photos to meet HTML and page requirements. No copyrighted material will be accepted, except that which was authored by the submitter. Submission of material grants Adams Co, MS and the USGenWeb Project permission to place the file/photo on it's page. Contributors may withdraw submitted material at any time, via E-Mailed request.

To submit information, please contact: Carolyn Switzer
---




Return to Family Index
Home


This county is maintained by Carolyn Switzer

Copyright Carolyn Switzer 2002-2009 - All Rights Reserved
---

THEODORE "THEO" LACY BAUER (1846 - 1927)

Theodore Lacy BAUER was born in New Orleans, LA, the first child of German immigrant, Theodore Frederick BAUER, and English immigrant Sarah Elizabeth HALL. The family migrated to Natchez, Adams Co., MS in about 1850. On 15 April 1862, 16 year old Theo was sworn in as a member of the Natchez Rifles by Sgt. PERRYMAN. Theo participated in the battle at Seccessionville, SC as an infantryman. In September, 1862, he was detailed for Band duty. He then participated in the following battles: Jackson, MS, Chicamauga, GA, Missionary Ridge, Resacca, GA, Kennesaw Mt., Atlanta, Jonesboro, GA, Columbia, TN, and Spanish Ft., AL. He was paroled at Meridian, MS on 27 May, 1865, and returned to Natchez. Prior to enlisting, Theo had bid on a portrait of Robert E. Lee at a local CSA fund-raising event. The holder of the portrait was Miss Ellen Jane Scully, the first born of Irish immigrant James SCULLY, and Elizabeth EVERETT, from Woodville, Wilkinson Co, MS. In 1869, Theo and Ellen Jane were married at Trinity Episcopal Church, in Natchez. The couple had four children: Charles Theodore b 1870, Bessie Elizabeth b 1871, Eva Riley b 1878, and Ruth b 1879. Although Theo was employed as a carpenter, he continually wrote little songs and ditties, all of which, unfortunately, have been lost. Ellen Jane (SCULLY) BAUER died in 1925, preceding her husband in death. All of the children, except for Eva, remained in Natchez throughout their lives.
Submitted by Ellen Pack
---

WILLIAM GRIFFING FULTON (1841-1914)
William G. FULTON, born in Adams County in 1841, was a son of John and Penelope Eleanor Griffing FULTON. In May 1861, Will enlisted in the Adams Troop, known as the Jeff Davis Legion, which was assigned to Jeb Stuart's cavalry division in the Army of Northern Virginia. The Jeff Davis Legion served as escort for Stuart during the battle of Sharpsburg (Antietam) in September 1862, made the famous ride around Gen. George B. McClellan's entire Union army, fought in the "Seven Days Battles" east of Richmond, at Brandy Station, Gettysburg, and all major battles in the East. During the battle of Trevilian Station in June 1864, Sgt. FULTON as color bearer, was shot through the leg, killing his prized bay mare. The brigade surgeon, Dr. Orrick METCALF, saw him bleeding and raving and told him the wound was not dangerous.
"I know that," FULTON declared, "but damn them, they have killed my horse!" The thoroughbred was valued at $1,333.33. Sgt. FULTON would have another horse shot from under him during the War, also a bay mare. She was valued at $866.67.
Will FULTON was never 'Reconstructed.' Following the War, he would never allow the 'Yankee Flag' to be flown over his house. In February 1864, a company of the 4th Illinois Cavalry rode out from their camp near Natchez, raiding the family home of Sgt. FULTON. They stole 500 bales of cotton ($75,000) and slaughtered or drove off all the cattle, hogs, and horses. William Griffing FULTON died in 1914 and is buried in the Natchez City Cemetery. So are 14 members of the 4th Illinois Cavalry...in the Natchez National Cemetery.
Submitted by Robert Crook
---

GEORGE JONTE, Jr.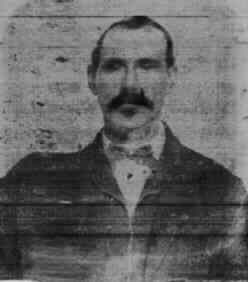 George JONTE, Jr., born 1838 in Louisiana, was the oldest child of George JONTE Sr. and Minerva Oglesby JONTE. The JONTE family moved to Mississippi after the father purchased a piece of property located on the Mississippi River, below Natchez, from Sian G. ROWAN on March 17th, 1848 in the amount of $4,038.00. According to the 1850 census, the JONTE family resided in the City of Natchez and on April 9, 1861, at the age of 23, George was mustered into service with Quitmann's Light Artillery Independent Battery. July 23, 1863, George JONTE, Jr. married Mary E. NORWOOD, daughter of the late Major Robert NORWOOD and Ellen E. C. LEWIS of Ft. Adams, MS. The young couple resided in the City of Natchez along with four young daughters, the first being born on May 11, 1864, until the time of his death, about 1873.
Submitted by Madge Harris