Pictures of Various Historical Markers
in Adams County
(Unless noted all pictures are originals by Carolyn Switzer)
HISTORICAL MARKERS
ON THE NATCHEZ BLUFF
SPANISH COLONIAL NATCHEZ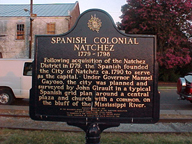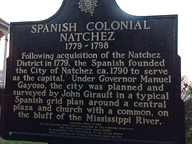 SPANISH COLONIAL
NATCHEZ
1779-1798
Following acquisition of the Natchez
District in 1779, the Spanish founded
the City of Natchez ca. 1790 to serve
as the capital. Under Governor Manuel
Gayoso, the city was planned and
surveyed by John Girault in a typical
Spanish grid plan around a central
place and church with a common on
the bluff of the Mississippi River.
NATCHEZ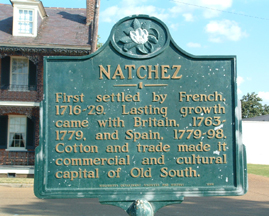 NATCHEZ
First settled by French,
1716-29. Lasting growth
came with Britain, 1763-
1779, and Spain, 1779-98.
Cotton and trade made it
commercial and cultural
capital of Old South.
RICHARD N. WRIGHT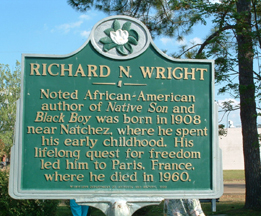 RICHARD N. WRIGHT
Noted African-American
author of Native Son and
Black Boy was born in 1908
near Natchez, where he spent
his early childhood. His
lifelong quest for freedom
led him to Paris, France,
where he died in 1960.
___________
HISTORICAL MARKERS BETWEEN BROADWAY
AND CANAL STREET
FT. ROSALIE (FT. PANMURE)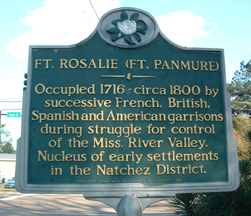 The Inscription Reads:
FT. ROSALIE (FT. PANMURE)
____
Occupied 1716 - circa 1800 by
successive French, British,
Spanish and American garrisons
during struggle for control
of the Miss. River Valley.
Nucleus of early settlements
in the Natchez District.

BERNARDO DE G`ALVEZ
This Inscription Reads:
BERNARDO DE G`ALVEZ
____
Don Bernardo de Galvez, Spanish Governor of
Louisiana, 1776-1783, in a brilliant campaign,
with the aid of regular troops, militia,
volunteers, and a few Americans, captured Baton
Rouge from the British on September 21, 1779.
Terms included the surrender of Fort Panmure
in Natchez, which was occupied by Spanish
troops on October 5, 1779. The signing of the
Treaty of San Lorenzo on October 27, 1795
ended Spanish control of Natchez.
Dedicated October 29, 1985 by the
Mississippi State Society
Daughters of the American Revolution
Mrs. William Edwin O'Hare, State Regent
__________

HISTORICAL MARKER ON MAIN STREET
BETWEEN PEARL AND WALL STREETS
This inscription reads:
SITE OF
BANK OF MISSISSIPPI
_____
Chartered in 1809 as the only
bank in Mississippi Territory
and given a monopoly as the
official state bank in 1818.
It occupied this site in 1826
but was supplanted by Planters'
Bank in 1831. Closed solvent.
Mississippi Department of Archives and History, 1991
---
If you have pictures that you have taken of various historical markers in Adams County or more non-copyrighted information on them and would like to submit them for this page, please contact Carolyn Switzer.