Natchez National Cemetery
Adams County, Mississippi
Photographs Copyright Dale Woosley, Natchez, MS - 1997
---

The Natchez National Cemetery was established in 1866, as part of the Federal Government's plan to prevent desecration of the graves of Union soldiers who had fought in the War Between the States. During the war, many soldiers had been buried across the Mississippi River along the west shore at, and north of, Vidalia, Concordia Parish, Louisiana. Identification and movement of those remains, to the Natchez National Cemetery, began in the fall of 1866.

Most of the Civil War dead, whose remains were brought to the Natchez National Cemetery, died during the years 1863 and 1864. Just north of the present cemetery, an old Natchez home called The Gardens had been used as a Union hospital. Some of the original burials are of soldiers who died in that "hospital."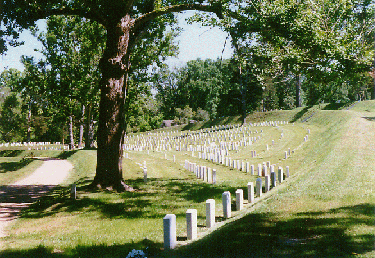 Early records indicate that many of the remains are of Union Navy personnel. Most of those burials are in what is now Section D, of the cemetery.
There are a total of 6055 interments in the Natchez National Cemetery, and it remains an active Cemetery for veterans and their eligible dependents.
An office, at the entrance to the cemetery, houses a small display of historical documents that relate to the cemetery. A Burial Registrar is available outside of the office, for use when the office is closed. The cemetery remains open 24 hours a day.