AMITE COUNTY Amite County is located in the southwestern part of the State next to the Louisiana border in what is known as the Long Leaf Pine Region, and is now bounded on the north by Franklin and Lincoln counties, on the east by Pike county, on the south by the State of Louisiana and on the west by Wilkinson county.

The first county court, composed of five Justices of the Quorum, and having jurisdiction over general county business, roads, and the trial of slaves, held its first session in the autumn of 1809. Micajah Davis was the Chief Justice, Thomas Batchelor was the first clerk, and David Lea, the first sheriff. The first Circuit Court of the county was held in the county the same year (1809) by Hon. Francis Xavier Martin, afterwards Chief Justice of the Supreme Court of Louisiana.

Amite County was represented in the Constitutional Convention of 1817 by Henry Hanna, Thomas Batchelor, John Burton, Thomas Torrance, Angus Wilkinson and William Lattimore.

In 1812, Ludwick Hall published the Republican at Liberty; subsequently, the Liberty Advocate and Piney Woods Planter, both weeklies, were published here.

The Yazoo & Mississippi Valley railway runs along its extreme western border, and one short branch known as the Liberty-White R.R. extends from South McComb to Liberty. Extensions of these lines will naturally follow in the near future, and the interior of the county will then have the transportation facilities it has so long lacked. While agriculture forms the chief source of its wealth, yet manufactures flourish to some extent and the following statistics, derived from the last census returns for 1900 will be found of interest.

The white population for 1900 was 8,400, colored 12,308, total of 20,708, an increase over 1890 of 2,510. The total assessed valuation of real and personal property in the county in 1905 was $3,478.046, and in 1906, it was $4,647,305, which shows an increase of $1,169,259 during the year. The agricultural interest of the county have increased at least 25 per cent, in the last five years, while the population is estimated now at fully 25,000.

Source:Dunbar, Rowland. MISSISSIPPI; COMPRISING SKETCHES OF COUNTIES, TOWNS, EVENTS, INSTITUTIONS, AND PERSONS, ARRANGED IN CYCLOPEDIC FORM, v.1. c1907, Southern Historical Pub. Association, Atlanta, Georgia.

======================================================================

(This index appears at the end of each list of surnames. No need to return here.)

A B C D E F G H I J K L M N O P Q R S T U V W X Y Z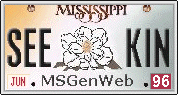 This Application will allow you to search the Archives of the
MSAMITE-L County Mail List.
Use the "BACK" button on your Browser to return to this page after your search is complete.

Many thanks to Bobby Edwards, SC for LAGenWeb for Providing this Form!
Would you like to JOIN the MSAMITE-L?
Home
============================================================================
Amite County Confederate Memorial Sign
Amite County Confederate Memorial
Amite County Confederate Memorial (2ND)
Little Red School House
Little Red School House (2nd)
Little Red School House (3nd)
Amite County Court House
Amite County Court House (2nd)
================================================================================================


John E. Cain
1211 Maritime Ln
Wylie, TX 75098

jecain99@verizon.net
---
Should anything unexpected happen to me and I am no longer able to fulfill my obligations, I want it known that all information contained in this website would become the responsibility of the USGenWeb Project, to do with as the USGenWeb Coordinator(s) and/or my state co-coordinator feel(s) appropriate. And further, should such an occasion arise, I grant permission to the System Administrator of RootsWeb to release account/password information to the USGenWeb State Coordinator(s) as needed. - John E Cain
---
Copyright &copy John E Cain and the MSGenWeb from 1997 through All Rights Reserved with Full Rights Reserved for Original Contributor

Page last Modified: Friday, 30-Jan-2015 20:58:45 EST
---