Trapped in a frame? Click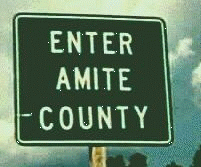 to break free.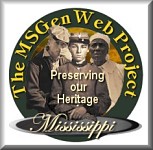 Queries: Amite County Mississippi
---
I invite you to enter a query for your Amite County ancestors. Enter your query information exactly as you want it to appear and send to me via email. Every effort will be made to post your query within 24-48 hours, however no guarantees are made.


---
TO EXPEDITE POSTING, PLEASE FOLLOW THE RULES BELOW:

Please post only those queries with an AMITE COUNTY MS connection!
Queries are indexed by surnames appearing in the query, so please capitalize those surnames you wish to be indexed. (MAXIMUM OF 6)
Put "AMITE COUNTY QUERY" in the subject line of your email message!
Place your name and email address at the top of the query.
If you would like to have your location (city and state) included, add those at the top of the query. If you have a personal website, you may add that also. See example below.

EXAMPLE:

Subject:  Amite County Query

--------------------------------------------------------------------------
John Smith   jsmith@aol.com
(optional)  Your City, State;  
(optional)  Your website   http://www.someweb.com/~jsmith/index.htm 

BROWN / CATES / JONES / MACK / SMITH / WOOL (alphabetical order will be appreciated)
I wish to correspond with anyone researching John SMITH who married Mary
JONES.  They were married in Amite county Mississippi in 1845 and had the 
following children: James Smith who married Jane CATES; Sue Smith who 
married Bill MACK; Martha Smith who m (1) Jim BROWN and (2) Mike WOOL.

--------------------------------------------------------------------------
(The Above is only an example.  You may word the query any way you wish.)


NOTE: If you find these instructions confusing or incomplete, please let me know. Thanks
---
---
Viewing the Queries The Surname Pages serve as indices to the Amite County Queries.

A B C D E F G H I J K L M N O P Q R S T U V W X Y Z



---



The Amite county queries no longer reside on a single page. Due to the volume of queries received, the queries have been placed on multiple pages and are in no particular order. It is recommended that you use the "Surnames" pages as an aid in finding queries. However, if you should wish to scan the queries you may do so by clicking on the "View Queries" below.
---
John E. Cain / 1211 Maritime Lane / Wylie TX 75098

jecain99@verizon.net
---
Copyright &copy John E Cain and the MSGenWeb from 1997 through ; All Rights Reserved with Full Rights Reserved for Original Contributor
Page last Modified: Tuesday, 27-Jan-2015 22:23:46 EST
---