Letter from Cyrus McElroy to His Wife, May 7, 1862
Note from Osiris Johnson, submitter of this information. On May 7, 1862, Cyrus McElroy left home to join the MS 31st. He left a pregnant wife and two children.
He promised his wife Lucetta that he would send her letters telling her where he went and what he was up to. He only got out one letter.
Cyrus lived in Chickasaw Co for many, many years. He was married there in 1856 and is found there in the 1860 and 1870 census.
He probably never left the county, rather the county left him when part of it became Sumner Co; now Webster Co.
The following letter from Cyrus McElroy to his wife, Lucetta, after he left home to join the Confederate Army, was submitted by Osiris Johnson; ggggrandson of Cyrus McElroy.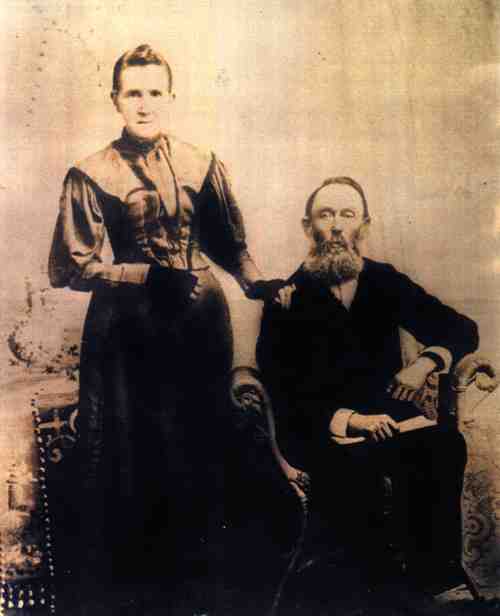 The above photograph is of Cyrus McElroy and wife Lucetta
On leaving home I promised my family and friends that I would sooner or later give them a sketch of the travels I had taken, and shall now endeavor in part to fulfill that promise.
It was on the 7th day of May, 1862, that I bade adieu to my wife, children and relatives, and started to join the Confederate Army, to cast my lot with my countrymen who were defending our homes against invasion.
It was a pleasant day, but the countenance of each was sad. The day wore slowly away, and night found us camped at the bridge on Lake Toncha, three miles west of West Point, on the Mobile and Ohio Railroad. After resting ourselves and taking some refreshment, the heart of each grew apparently lighter.
Many amusing anecdotes were told to me and it was late ere we lay down to try and repose from the fatigues of the day. How those who were with me rested that night I am not able to say, as for myself I must confess that it was late ere I could compose my mind sufficiently to sleep. I thought of my wife and children, of their lonely and destitute condition. I also counted as well as I could the chances of a return, and when at last gently Morpheus embraced me I was transported back to those whom I had just parted from; and in fancy lived life o'er again.
Daylight on the 8th found us on our way to West Point, at which place we arrived about sunrise. There we remained until 9 o'clock waiting for the train. During our stay in West Point we bought some little articles, among the rest a bottle of spirits, which we used trying to revive our own spirits, which were then as low, at least, as zero. Nine o'clock at last arrived; the train arrived which was to transport us to our regiment, which was then stationed at Saltillo, Miss., about 80 miles above West Point.
We seated ourselves as comfortably as possible, and were soon on our route to our point of destination. We had, however, proceeded but nine miles when the train ran off the track, bursting a box or two to pieces; fortunately no one was injured. We took our baggage off the train, carried to the next station a mile distant where we remained until late the following evening, when we again mounted the train, and proceeded without further difficulty to Saltillo.
At 3 0'clock on the mourning of the 10th of May, we reached the station, after which we went out to camp, one mile from town. I shall not attempt to describe my feelings after arriving here. I thought of those I had left behind, and would have given the wealth of Creosus a thousand times to be restored to them; but the die was cast, and I resolved to bear with as much patience as possible what I could not avoid.
After reaching the regiment, we spent our time in drilling until we recieved marching orders. We accordingly struck tents, placed our baggage on the train, and started to Corinth, which was then threatened with an attack from the enemy. We arrived at Corinth just at dusk and remained on the cars all night and until late on the morning of the 15th, when I with several others was detailed as baggage guard. the regiment was carried up town, and armed, and equipped. It was then ordered to camp two miles southwest of Corinth. Here we remained until Sunday, the 19th, when we were ordered to a new encampment one mile north of town.
At this camp we remained about ten days, at times drilling, at others lying in the entrenchment, waiting for the enemy to attack us. Here I was detailed and sent back to our old camp to nurse a sick man (R. L. Niblett) whom I found to be given up by the doctors. I remained with him through the night, and found about midnight that he was dying. He died about 9 o'clock in the morning. I had to remain with him through the day and following night. I felt quite lonesome and was glad when we had buried him and returned to camp.
During the time of our stay at this place fighting was going on very generally between the Federals and General Price, who commanded the right wing of our army. About the end of May the retreat commenced from Corinth. Our regiment was at the entrenchments three miles north of town when the orders were received. Accordingly, after destroying what we were not able to carry with us, our brigade under command of our Col. J. A. Orr, took up the line of march about dusk, and reached Corinth at 9 o'clock p. m.
Here we remained about two hours when Col. Orr succeeded in getting his command upon a train. We left about 11 0'clock p. m. and proceeded to Booneville where we arrived about daylight. Here our train stalled and the troops had to alight and push her off. After getting her started we all mounted again, and proceeded to Twenty Mile Creek near Baldwin station. We had scarcely got out of sight of Booneville, however, when the enemy's cavalry came in, took many of our sick boys prisoners, and burned a train loaded with arms and ammunitions. Our cavalry soon came up, when the enemy ran off leaving their prisoners and everything in our hands. We remained in the swamp of Twenty Mile Creek about one week, guarding bridges, until the last of our commissaries were run below, when we burned the bridges and returned to camp two miles west of Baldwin.
During our stay in the swamps we suffered considerably. We were entirely without tents, and it rained almost continually, so that even when we had the opportunity of resting a few moments we could not do so. After going to camp we put up our tents and prepared to live as comfortably as possible, but received orders about 36 hours later to cook rations, strike tents and be ready to march at a moment's warning. We accordingly prepared ourselves, but after getting ready we had to wait 24 hours for orders.
We then took up the line of march for Tupelo, in Pontoloc [R. Bellinger must have misread Pontotoc] County, Miss., which we reached after two days' hard hard marching. Many of us were exhausted by heat and fatigue. We now stacked arms in a new ground, which had been but partially cleaned up and retired to the shade to rest. After resting a few moments I sank into a gentle sleep. How long I slept I am not able to say, but when I awoke I was scarcely able to move. It seemed that every limb was just ready to break from the slightest motion. I felt now that I was to small extent experiencing some of the horrors of war. Little did I then know of the miseries in store for me and my comrades. We rested until near night when the bugle again called us into lines, and we were marched some five miles west of Tupelo, where we camped for the night.
Here we rested two days8and marched out one mile farther west, cleared a camp ground, put up our tents and prepared to live as comfortably as possible. We had a beautiful situation here and fared sumptuously during out stay, which was about two weeks. On the 17th day of June we were ordered to cook three days' rations, and be ready to march at any moment. We soon prepared our rations; rested the following night and on the morning of the 18th we struck tents, loaded our wagons and took up the line of march for Abbeyville, in Lafayette County, Miss., distant about 80 miles. The country through which we marched was very broken. the weather was very hot and dry and we were marched very hard; consequently many of our soldiers became exhausted and fell by the way. On the fourth day's march, late in the evening we struck up camp, a few miles southeast of Abbeyville, where we rested about 3 or 4 days, refreshing ourselves from the fatigues of the march.
We now marched to the station of Abbeville, situated on the N. O. J. and G. N. R. R., where we lay waiting for orders nearly a week. Finally orders came. We cooked three day's rations, put our baggage upon the train, seated ourselves upon an open box and were soon on our way to Fricksburg. [It should be Vicksburg]
The train hardly stopped until we reached Grenada, which was about sundown. Here we remained until 9 o'clock, when we left for Jackson. During our stay here I lay down upon the floor and went to sleep. Bright visions of home now blest me. I was transported to my home and enjoyed the companionship of those dearer than life itself. The cold night wind chilled me, and I awoke. All the boys were asleep. We were travelling at quick time from home. I arose, drew my blanket closely around me and sat for hours, thinking of the bright vision that had so lately blest me, and also calculation the chances of a return. It was late ere I could sleep again. Towards day I fell into a disturbed slumer. I awoke just at dawn of day and found that we had arrived at Canton, 23 miles north of Jackson, which place we reached about 9 a. m.
We lay over at Jackson 24 hours, then proceeded to Vicksburg. We reached Four Mile Bridge, 4 miles east of town, about 11 o'clock a. m., took off our baggage and rested one hour. We then cooked and ate dinner, after which we were called into lines (except a detachment left to cook rations for us) and marched to town. We were halted near the Court House, where we remained until dark, when we were marched up the river and stationed near its banks two miles above town. Here we lay on our arms all night watching the movement of the enemy's gunboats, ready to prevent his landing should such thing be attempted. At 1 o'clock on the following day, we were ordered to camp. We marched along down the banks of the great Father of Waters and saw the gunboats and transports of the enemy in the distance, moving slowly about on the surface of the water.
We soon found that we were not unnoticed by them, for scarcely had we reached town when we heard the roar of cannon from the mortar boats of the enemy and soon a shell came whistling along which burst immediately over our heads. One followed another in quick seccession, and now followed a scene such as I had never witnessed before. Women and children were seen running in every direction bare-footed and bare-headed trying to escape the horrible death that seemed almost inevitable. Fortunately none of us were hurt and we reached camp about dark. For nearly a month we lay upon the banks of the river watching the movements of the enemy.
On the 16th of July occurred the great naval battle between the Confederate ram Arkansas, and the fleet of the enemy. Towards the latter part of July the Federals abandoned the idea of taking Vicksburg and left the place alone.

On the 26th of July we received orders to cook three day's rations, which we did, and on the morning of the 27th we mounted the cars, waved an adieu to Vicksburg, and were soon thundering along the railway towards Jackson. We had proceeded nine miles when the car ran off the track, bursting one or two boxes to pieces, and crippling several men. The evil was soon remedied and we were again on our way to Jackson, which we reached late in the evening. Here we stayed only an hour or so, when we took passage to Camp Moore ( or Tangipaho) in Louisiana, 77 miles above New Orleans. We camped here on the banks of a beautiful little stream of water, and remained 48 hours. On the morning of the 30th of July we took up the line of march for Baton Rouge, La., distant 65 miles in a S. W. direction.
We marched only six or eight miles that day, and camped, cooked rations for the following day. Daylight on the 31st found us again on the move. We traveled only 10 or twelve miles today and again camped, had inspection of arms and cooked rations for the next day. Early on the morning of August 1st, we were on the march. The weather was quite warm, and dry. We reached Greenville Spring about 2 o'clock. We rested an hour or so, then went on parade. General Breckenridge here made us a speech, after which we cooked supper.
A detail was now made to go to Comite bridge, 7 miles distant, to guard a battery. I was one of the detail. We marched seven miles in quick time without resting which overheated many of us. We reached the bridge about midnight, slept one hour and then sat up and guarded the battery. Our regiment moved down the next morning to Comite Bridge, ten miles east of Baton Rouge. Here we rested two days. On the evening of the 4th of August we were called into line and informed by Maj. Topp. (who was then in command of our regiment) that a council of war had been held, and that it was resolved to attack the enemy at 4 o'clock the next morning. We accordingly cooked rations for two days, ate supper, filled our canteens, and just after dark took up the line of march for the city, our design being to surprise the enemy at daylight, while at the same time the Arkansas was to attack the Federal fleet. Unfortunately, she was blown up before reaching her point of destination. We marched slowly all night. Just before daylight our cavalry, which was in advance, became confused and fired on our infantry, killing and wounding many of our soldiers. This thew us into confusion for a few moments, but we soon formed and started again.
The long roll in the Yankee camp was now heard, and we knew they were preparing for battle, when within two miles of town we filed right into a field of green corn, and formed a line of battle. We then marched through the corn and entered a field of sugar cane. Pressing on through this we entered an old pasture just at dawn of day. Just after this we heard the battle of commence down on our left. We heard the boys raise the yell, and knew they were charging the enemy. We pushed on and entered another pasture. Here we were greeted by grape shot and canister, round shot and shell, and everything that would do to shoot out of cannon. We however, pushed on until we reached the edge of the city.
Our battery had come up, and we lay down for a few moments near it behind a plank fence. We then rose, pushed down the fence, passed into the street, made a left flank movement, went in double quick about 200 yards, then faced in line of battle opposite the 14th Maine regiment. Our company, of 76, was now thrown out as skirmishers. We took several prisoners, arms ammunition, etc. We passed through the camp and entered a corn field where the enemy were stationed. Here our regiment had a hard fight, but finally repulsed the enemy. We now fell back to the ravine, rested a while, then fell back to the top, rested a while, then fell back to the top of a hill and made a oblique movement, which threw us on the left of and to the support of the 3rd Kentucky regiment, which was under a galling fire from the 2nd and 7th Indiana regiments.
We fired a few rounds, then charged bayonets, which put the enemy to flight. The fate of the day was now decided. The victory was ours, but we were not able to hold the field, as the Federals were shelling it from their gunboats. We now fell back two miles, rested until evening, and returned to camp. Our regiment lost eleven killed, two mortally wounded, twenty-seven seriously and slightly wounded.
We remained at Comite bridge about two weeks after the battle, during which time it rained nearly every day. We had no tents or anything to shelter us, so we had to take the weather as it came on us. Consequently many of our boys became sick.
To be continued.
Lucetta, I send you these lines which will give you a sketch of our travels. It is very imperfect in many respects, but will give you some idea of the many things the 31st Miss. has had to undergo.
I will give you another as soon as possible.
Yours truely,
C. D. M.
S. L. A. M.
March 21st. I have unsealed my letter so as to add a few lines here before I start this off. They are fighting like thunder above. The cannons are roaring continually. Everything is astir in camp; we may look out now, for we will have to fight."
---
Please find attached a letter written by my 2nd-Great Grandfather, William
Crawford Dickson from Okolona, MS. on November 22, 1861 to his mother in
Columbia County, Arkansas. He has just enlisted in the Confederate army and
is about to leave for the war.
[Paragraphs divided for clairity] [Words in brackets mine]

Okolona, Miss Nov 22nd 1861
Dear Mother,
I am now at home on furlough trying to wind up my business but the time is short that I have that I shall leave it in [text unclear] in an unwound condition.
I could not get a long furlough-- On the other side of this sheet you will find what my will and wish is provided I am so unfortunate as not to get back.
Mother do not think that I am going out with tears in my eyes, for I have not shed any nor do not expect to shed any--for I am really anxious to go and only regret that circumstances have been such that I could not go sooner,, and do not think by that document than I am afraid of not getting back for I am certain that I will stand as good a chance as any, but I only wish to prepare for any event that may turn up-- I am going out with the full determination of facing any
circumstances that may come before me. I know that there are many that do not get back and I only wish to prepare for the worst.
I belong to Capt. Fields company in the Baskerville battalion, and expect to be in the Pope Walker brigade. I am orderly sergt of my company, and a hard berth it is, but I accepted knowing it to be so & now I will not flush.
I will write again when I have more time and give you the full particulars as to our position in the army and when we go we expect now to go south but are not certain. I read your and Susans letter a few days sooner. Continue to write and direct to Okolona and they will be sent to me. My health is fine. cousin Martha helps to make my clothes. I am in a cavalry company. I am well armed, and my out fit including horse arms and clothes is worth a least 400 dollars.
My love to yourself and to all the rest.
Your affectionate son, W.C. Dickson.
Return to Index

© 2000-2015, All Rights Reserved
All rights reserved. This information may be used by libraries, genealogical societies, and other researchers. Commercial use of this information is strictly prohibited without prior permission of the owner.
If copied, this copyright notice must appear with the information.