James L. Sansom Family 1903
The following photo and information was submitted by
Nancy Bell
.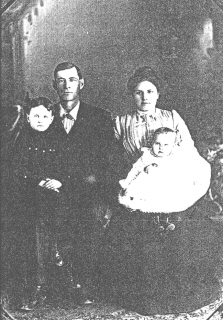 James Lamar Sansom was born 23 Aug 1871 in Scooba, Kemper Co, MS. He was the son of William Carter Sansom and Martha Hand Dale. He married Elzie Word on 23 Dec 1896.
James Sansom died in 1917 and is buried in Old Union Presbyterian Church Cemetery. They had the following children:
Matilda Wilburn, who married Bob Williams; Elzie, who married John L. Blackshear; and James Word
.
Return to Index
All rights reserved. This information may be used by libraries, genealogical societies, and other researchers. Commercial use of this information is strictly prohibited without prior permission of the owner.
If copied, this copyright notice must appear with the information.