Welcome to the Holmes County MSGenWeb site. I'm your county coordinator, Monique Young. If there is something you would like to see that's not already on the site, then please email me here. There is also an old MSGenWeb Holmes County site on Rootsweb. It hasn't been updated in a while but there's a lot of useful information on the site. The link is under Research Links. A little history of the county is below.
History of Holmes County
Contributed by Cindy Green, Los Alamitos, CA
Copyright Cindy Green - All Rights Reserved
---
Holmes County is located in the west central part of Mississippi. It was created February 19, 1833 out of the land originally ceded by the Choctaw Indians in the Treaty of Doak's Stand, October 18, 1820 and known as the "New Purchase." Out of the original large county of Hinds was formed Yazoo County, and Holmes was formed from Yazoo in 1833. A portion of western Holmes County was contributed to the formation of Humphreys County in 1918. Holmes County was named for Governor David Holmes, fourth Territorial governor, first Mississippi state governor, and later U.S. Senator.
Some of the names of very early settlers of Holmes County are Nathaniel Rives, Archibald Paxton, W.T. Land, Dr. Garret Keirn, Robert Cook, James R. Enloe, James Dyer, John W. Dyer, John W. Anderson, Israel W. Pickens, W.W. George, Dr. Frances R. Cheatham, Dr. Ira S. Mitchell, Joseph Plummer, Alexander Magee, Vincent Carraway, William H. Hines, John W. Cowen and William McLellan. (1)
Between 1820 and 1830, nearly 30,000 people moved into the lands opened up by the Doak's Stand Cession. The population of Mississippi increased 175 percent during that decade. Between 1833 and 1837, prices "rose like smoke," and Mississippi land offices sold over seven million acres of land on a seemingly limitless supply of credit. Towns sprang up overnight, and the charlatans, gamblers and speculators swarmed into Mississippi, ready to make their fortunes. The land boom created an atmosphere much like California would experience in 1849. The bubble burst in 1837, when Andrew Jackson ordered federal land offices to accept nothing but hard cash for land, and land prices plummeted. There was a mass movement westward, often to Texas, as speculators went broke and moved on to a new start. (2)
Not all immigrants were speculators or charlatans, however. Great numbers of small farmers moved into these lands from the soil-weary seaboard states, attracted to the virgin soil. Census schedules often reflect the migration patterns of these families, as often the birthplace of the parents was Virginia, North Carolina or South Carolina, that of their older children Tennessee or Alabama and the younger children and grandchildren, Mississippi. Very few settlers in these counties were foreign-born. (3)
Holmes County attracted many of these immigrants, drawn to its rich soil. All crops grew well, but the area was especially suitable for farming grain and fruit. Timber was abundant, and there were numerous rivers and lakes. The Yazoo & Mississippi Valley Railroad connected Durant and Tchula with the county seat, Lexington, and this farming region shipped large quantities of produce to northern markets through the connection in Durant with the Illinois Central Railroad.
---
Sources:
(1) Rowland, Dunbar. History of Mississippi, the Heart of the South, published 1925.
(2) Skates, John Ray. Mississippi, A Bicentennial History, W.W. Norton & Co., New York, 1979.
(3) Weaver, Herbert. Mississippi Farmers, 1850 - 1860, The Vanderbilt Press, 1945.
Copyright 1998 Cindy Greene
Visit Our Surrounding Counties Below By Clicking on the Map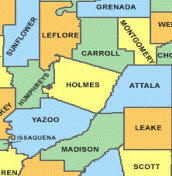 "
Map Courtesy of Digital-Topo-Maps.com