Contributed: June 2007
Submitted by Doug Braden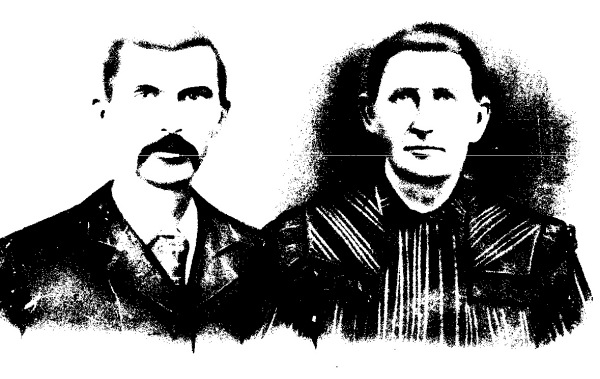 Photo of Crittenden and Nancy (nee Ratliff) Mitchell.
This is "Duke" Benjamin Crittenden Mitchell who was born 26 Jan 1851 in Decatur, Ala. He was the son of John L. Mitchell and Nancy Richardson. He died 11 Jan 1896 near Baldwyn. His wife Nancy Jamima Ratliff was born 21 Feb 1855 in Ratliff. She was daughter of E. David Ratliff and his first wife Cynthia Ann Stovall. She died near Baldwyn 27 Jan 1915. Both are buried in Oak Grove cemetery. They were married 4 May 1876 in Ratliff and had twelve children who all were raised and married in Itawamba Co, Miss.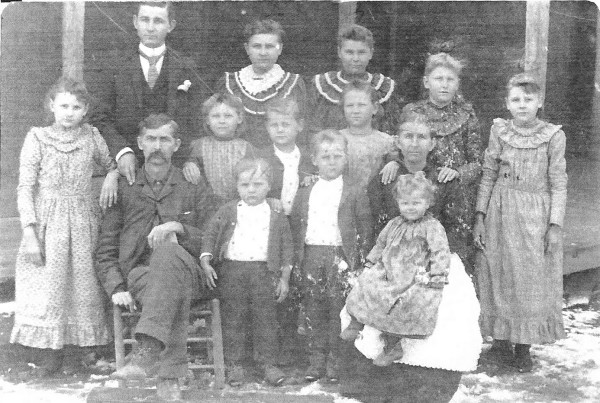 Family Photograph of the Benjamin Crittenden "Duke" Mitchell Family.
It was taken on his 44th (and last) birthday Jan 26 ,1895 at the family home near Ratliff, Itawamba Co., Mississippi. Duke died January 11, 1896.

Back row, Standing: Shaler Allen Mitchell, age 19; Tamsie Ophelia Mitchell Cummings, age 17; Lillian Lavell Mitchell Norton, age 13; and Verna Anne Mitchell Braden, age 12 .

Middle row, standing: Rozzie Ann Mitchell Durett, age 14; "Duke" (seated); Cercy Arroror Mitchell York, age 10; William Claborne "Clabe" Mitchell, age 8; Jimmie Della Mitchell Grissom, age 9; Nancy Jamima Ratliff Mitchell.

Front row, standing: Harvey Carroll Mitchel,l Sr., age 5; George Thurman Mitchell, age 7. Seated in Nancy's lap is Mary Alice Mitchell Ford, age 3. Nancy is carrying Bettie Mitchell who was born on Sept. 14,1895 and died February 3, 1896. "Duke" came to Itawamba Co., Mississippi with his father's family in 1852.