Henry "Jack" William Driggs
Lincoln County, Mississippi
---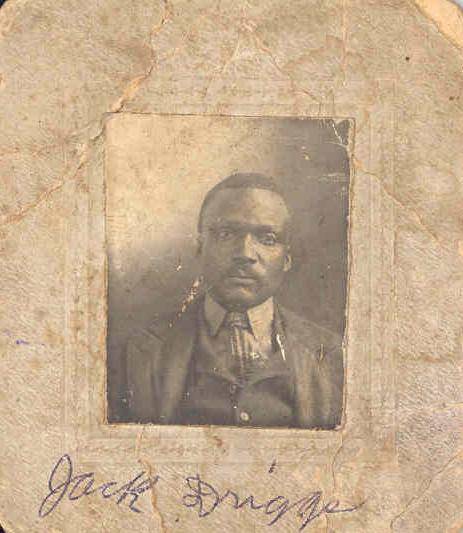 ---
Author of This biography: Christi Young
The Person This Biography Is About: Henry "Jack" William Driggs
Date This Biography was Written: July 22, 2005
Christi's email: young0278@sbcglobal.net
---
Henry "Jack" William Driggs
Henry William Driggs was the son of Martha Jane Godbold (or Godbolt)-Roundtree and Gilbert Driggs. He was born on August 08, 1874 in Caseyville, Lincoln County, Mississippi. He was known to many as Jack Driggs. His maternal grandparents were Lucinda Buie and Abram Godbold (or Godbolt).
As far as Henry's race and nationality he was an African American with Spanish or Indian background. His nephew, Arthur James "Slim" Carter told the family that his mother was part Spanish. Slim said that she was petite with straight, wavy hair and brown skinned. James said that he remembers the Spanish relatives coming to visit at the family house in Brookhaven, Mississippi. Other relatives said that Martha was part Indian.
To my knowledge he did not have any brothers. Jack's sisters were Patsy Coleman-Hooker, Mary Goodwin (or Godwin, or Gooden, or Goodin)-Carter Young Howard (She mainly used Mary Goodwin-Young.), Clara, Mattie, Sendy (or Cindy) Smith, and maybe one named Cressa. Clara and Mattie's maiden last name could have been the same as Mary's lastname, which was Goodwin (or Godwin, or Goodin, or Gooden). I don't know if Smith was Sendy's maiden last name or not.
By 1884 or 1885 Jack's family was living in Brookhaven, Lincoln County, Mississippi. Later Jack grew to be a man and married Betty Blue-Driggs. To this union Leroy Samuel Driggs was born.
As far as Jack's religion, his family was Methodist.
Besides Brookhaven and Caseyville, Jack had lived in Canton, Mississippi and Indianapolis, Marion County, IN. In 1914, Jack was living Canton, Mississippi. Sometime around 1950, Henry moved to Indianapolis, IN with is sister, Mary. By this time he was blind, because he had Glaucoma.
Jack was a hard working man. Few of the many jobs he did were being a farm laborer, brick mason, and hod carrier.
Jack died on September 14, 1962 in Indianapolis, IN at 12:45 p.m. from renal shut-down and uremia. A fractured right hip contributed to his death. At the time of Jack's death he was residing at 3354 N. Capitol Ave. On September 18, 1962, Jack was buried in Floral Park Cemetery.
When he died his son and his sister, Mary Goodwin-Young were still living. He was also survived by a granddaughter and other family members.
---
<![if !supportEmptyParas]> <![endif]>
Christi Young
young0278@sbcglobal.net