The President's call for troops only requested one regiment from Mississippi. Volunteers by the hundreds were waiting and eager for the call, and it was no sooner made than Governor Brown was embarrassed by the necessity for selecting out of so many. Finally, it was decided to accept companies from the following counties:
From Hinds - two under Captains Reuben N. Downing and John L. McManus
From Warren - two under Captains George P. Crump and John Willis
From Wilkinson - one under Captain Douglass H. Cooper
From Carroll - one under Captain Bainbridge D. Howard
From Lafayette - one under Captain William Delay
From Marshall - one under Captain James H. R. Taylor
From Yazoo – one under Captain John M. Sharp
From Lowndes and Monroe – one under Captain Alexander K. McClung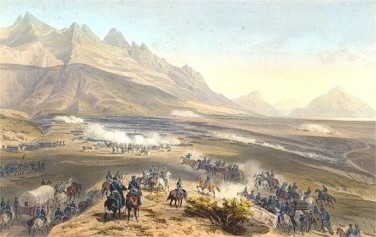 They rendezvoused at Camp Brown, near Vicksburg, and organized, choosing one of the state's representatives in Congress as colonel, a young man of West Point training and considerable experience in the United States service – Jefferson Davis – who resigned his civil office, and proceeded to secure rifles at New York. The brilliant young captain of the Monroe-Lowndes company was chosen lieutenant-colonel and was given command of Camp Brown and ordered to proceed to New Orleans and thence to Point Isabel, at eh mouth of the Rio Grande, where Colonel Davis soon arrived with arms, and spent months in drilling them to efficiency.
The list of officers, non-commissioned officers, musicians, and privates of the First Regiment Mississippi Riflemen, in the war with Mexico (to serve twelve months).

Date of enlistment, June 1846:

Field and Staff Officers:

Jefferson Davis – Colonel
Alexander K. McClung – Lieutenant-Colonel
Alexander B. Bradford – Major
Richard Griffith – Adjutant
Seymour Halsey – Surgeon
John Thompson – Assistant Surgeon
Charles T. Harlan – Sgt.-Major
S. Warren White – Quartermaster-sergeant
Stephen Dodds – Principal Musician
Kemp S. Holland – Assistant Commissary
Companies:
Company A - Yazoo - Yazoo Mounted Infantry - Captain John M. Sharp
Company B - Wilkinson - Wilkinson Volunteers - Captain Douglas H. Cooper
Company C - Warren - Vicksburg Southrons - Captain John Willis
Company D - Carroll - Carroll County Volunteers - Captain Bainbridge D. Howard
Company E - Hinds - State Fencibles - Captain John L. McManus
Company F - Lafayette - Lafayette Volunteers - William Delay
Company G - Hinds - Raymond Fencibles - Captain Reuben N. Downing
Company H - Warren - Vicksburg Volunteers - Captain George P. Crump
Company I - Marshall - Marshall Guards - James H. R. Taylor
Company K - Lowndes & Monroe - Tombigbee Volunteers - Captain William P. Rogers