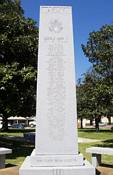 On Air Force Side:
Korean War
June 27, 1950 - Jan 31, 1955
Allen Duck
George N. Falvey
Morris Glasper
Thomas J. Grayson
James Kelly Hennington
Prentis Lavan Martin
Lamar M. McIntosh
Thomas Van Norden
Ruben Eugene Parrish
Earl F. Seale, Jr.
Tilden Edward Tanksley
Ben L. Wince
Holly Worthy
Vietnam War
Aug 6, 1964 - May 7, 1975
Edward Earl Beacham
Edgar Hunter Beasley
Bob C. Evans
Carter Purvis Luna
German Lee Nicholson
George Osborne, Jr.
James Edward Smith
A. V. Spikes
Eddie Frank Spotwood
Willie Lee Thigpen
Tommy Traxler, Jr.
At Base: Dedicated to the memory.
Under Marine heading::
WWI Apr 6, 1917 - Nov 11, 1918
Carie D. Beasley
Willie Borden
Cardie E. Cottingham
William Carroll Ellis
George E. Graves
Charlie R. Hawkins
Alexander J. Hilton
Lee Holloway
Nelson Lackey
Lee McCloud
Lonie V. Marler
William B. Martin
Harley Edgar Morrow
Isaih Overton
William V. Peats
Ambrose Shoemaker
Charlie Thompson
James B. Wilson
At base: of the brave men.
Army
WW II
Dec 7, 1941 - Dec 31, 1946
X. L. Anderson
Harold E. Barlow
Revis Clay Beach
Benton Wilson Beall
Thomas J. Beasley
John F. Blackwell
Toxie B. Blackwell
Henry Rena (Frenchy) Bolis
Jim Bradley
Earnest Brewer
Ernest C. Brewer
Francis Prent Bufkin, Jr.
George O. Burnett
Randolph Butler
Kermit L. Carraway
Alvin Chester Cockrell, Jr.
Maxey Joe Crisco
Wilbur J. Cupstid
Stanley E. DePriest
James H. Donahoe
Walter Drew
Caley Jones Eady
Milton C. Ervin
William Henry Evans
Roy T. Farrish
Jack S. Frishman
George Covington Fugate
Charlie B. Gilbert,
George William Gober
Joseph E. Gover, Jr.
James F. Gorenflo, Jr.
Hugh Tracey Gonia
William Edmond Graves
Roy E. Greer, Jr.
Edward Guthrie
George T. Hamilton
L. C. Hamilton
John T. Harris
Thomas Davis Hart
Carl C. Henley
William S. Henley, Jr.
James H. Henry
John (Jack) B. Higdon
M. W. Hollingsworth
James E. Howington
Lee T. Hudson
Dawson Hutchison
Burton Hynum
Nathaniel Jackson
Ervin T. Johnson
Louie A. Johnson
Robert J. Johnson
Jim Hal Johnston
T. Hewitt Knight
Jesse Leach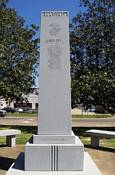 In honor of those
who fought and died
of those who fought and lived
this memorial is erected by
Copiah County
and the
Charles Edward Hooker Chapter
No. 1179
United Daughters
of the Confederacy
April A.D. 1917
"Love makes memory eternal"
At base of this side: who gave their lives in
Navy
WW II
Dec 7, 1941 - Dec 31, 1946
Clifford L. Leggett
James Lewis
Shelby L. Lindsey
Emmitt E. Little
Joseph B. Lusk
Billy McKinnis
William McClendon, Jr.
Robert F. McClendon
Wallace Howard McClendon
Delmas Dolan Martin
John L. Martin
Roy E. Martin
Dennis M. Maxwell
Thomas N. Methvin
Harold L. Middleton
Ernest M. Mohon, Jr.
L. C. Nations
William Newman
Robert Norwood
Edwin F. Osborne
Virgil A. Owens
Ralph P. Papivan
James R. Parker
Kie W. Pembleton
William m. Perkins
Prentiss P. Perritt
Henry Perry, Jr.
Albert Millard Pitts. Jr.
Harold Pitts
Harold G. Richard
A. J. Robinson
Zack Roland
William A. Sanders
Luther S. Sexton
Whitman (GA) Singletary
Brady L. Smith
Jerry E. Smith
Robert Sojourner, Jr.
Wilbur H. Strugis
James Sykes
James M. Sykes
Walter Ray Thetford
Tallie Clarence Thornton
Nealy Tillman
Charlie W. Turnipseed
John L. Turnipseed, Jr.
Ray Wallace
Eddie Walker
Lawrence V. Watkins
Sam Williams
Fred Wilson
J. F. Yarbrough
Jerome B. Yates
Jerry N. Yates
At base of this side: the service of their country
End of Copiah Co roll Call
Carl Reese McKee, Jr.