Wilborn Donates Pictures to TCG&HS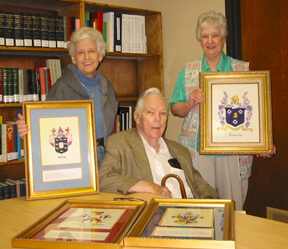 Former Tate Countian Marcus Wilborn, seated, and his wife Louise donated about 50 framed historical pictures to the Tate County Genealogical and Historical Society (TCG&HS) last week.
The Wilborns donated about 300 books and 15 rolls of microfilm from their family's collection to the society's library in 1998. Receiving the pictures were (l-r) Gail Tomlinson, TCG&HS treasurer, and Winnie Sykes TCG&HS president.
This article by LaJuan Tallo, News Editor, appeared in "The Democrat" February 25, 2003

This Page Updated January 20, 2010
County Coordinators: Syble Embrey & Marie Carlton

All rights reserved. Copyright of submitted items belongs to those responsible for their authorship or creation unless otherwise stated.