Watchful Magnolia
Written in 1998, by James Edward Luna from the suggestion and encouragement of Patricia Ann Boyd Vick.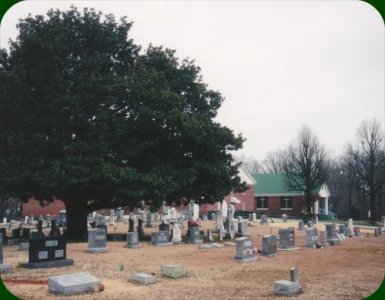 Amid the tombstones that mark the graves of many precious souls in Harmony Cemetery beside
Harmony Baptist Church just north of Walnut, stands a giant magnolia tree.
This tree was appropriately chosen to be planted by the grave of Myrtle Elizabeth Brotherton, four-year-old daughter of Albert and Minnie Boyd Brotherton. Research reveals that the magnolia was chosen as the Mississippi State flower by school children. Myrtle died in 1904 suffering from a childhood respiratory illness commonly known until this
day as diphtheria. Modern antibiotics were not available then.
This tree was twenty years old when I was born. I grew up knowing that it was there and was fascinated with its history. A vivid childhood memory attending worship services at Harmony is that "Aunt Minnie" would grace the assembly of the worship service by entering the north entrance to the old "T" shaped building, slowly walk down the isle and place a magnolia blossom with beautiful green foliage on the piano. The service would already have begun and
the congregation would only glance up from their song books and see her as she slowly took her regular place in one of the front pews. Through the years, I have come to understand that she wanted to share the most precious memory of Myrtle with her church family that she could give. This old 94-year-old tree has withstood wind, hail and ice storms, insects and even the woodchopper's ax. Some said that the tree caused the markers underneath the tree to tarnish.
No one had the courage to remove it because there would certainly have been trouble. Through the years anyone who wanted decorations for weddings, wedding receptions, Christmas arrangements, and other occasions had helped themselves. Even through all of this, it has continued to grow, share shade from the summer heat, refuge for birds, and welcome those who entered the cemetery through one of the arched gates for burials or visits.
Unlike humans, with age, it grows tall and more beautiful year after year.
One reason this tree is near and dear to my heart is that it was planted by my relatives. Many of you will remember that Uncle Albert and Aunt Minnie had two sons, Henry Brotherton and Billy Marvin Brotherton. Henry married Janie Adkins, who was an artist and painted many watercolor and oil paintings of magnolia blossoms for wedding gifts and other presents. They had two children, the late Eudora Brotherton Rogers, who retired from the Memphis State
University library, and the late Dr. William Albert "Doc" Brotherton who retired as chairman of the Continuing Education Department at Memphis State University. Billy Marvin married Wardie Eubanks, and they had two children. Billy Horace now lives in California and has owned and managed car dealerships and June Carol, a homemaker who continues to reside in the Memphis area.
Also Aunt Minnie had three brothers, John Henry Boyd, Sr., my grandfather, Fleming Boyd, and Charlie Boyd. She had two sisters, Amelia "Sissy" Boyd Eubanks and Lucy Ann Boyd Wilbanks. I am sure many of you also share fond memories of this old landmark and your loved ones planted in Harmony Cemetery. It continues to grace and beautify the silent city of the dead. Personally, I know there is nothing sacred or holy about this tree but to me it almost seems
that way because it has been there so long.

© 2002, by Melissa McCoy-Bell. All rights reserved.