The McIntyre Family Bible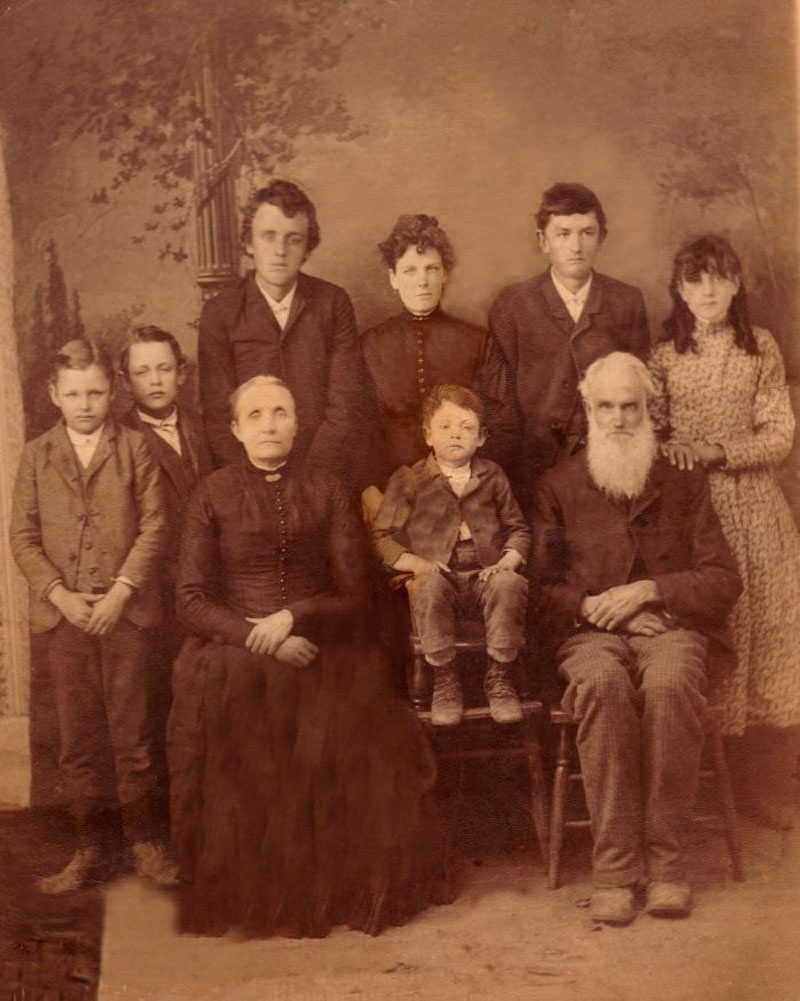 Pictured above are William James McIntyre and wife, Sarah Emailine Mccoy and their family druing the early 1880's.
Note: The records are old and hard to read, the blanks represent unreadable parts of the records.
These records were provided by Ellen Martin, great, grand daughter of Bill and Sarah McIntyre.
Short Bio: William James (Bill) McIntyre, earned his living by teaching school. In 1863, he enlisted in Gholson's Cavalry, served as 1st Lieutenant until the surrender, and them returned to Tippah County, where he served as tax assessor for 12 years. In 1887, he was elected and became chancery clerk. Bill and Sarah had nine children.

Marriages
William Jasper McIntyre and Ida Richardson married ____Jan 1888
Thomas Newton McIntyre and Willie E. Mitchel married 5 Nov 1901
William James McIntyre and Sarah Emaline Mecoy (McCoy) 21 Dec 1859

Deaths
William James McIntyre died at his home in Ripley, Miss, on 8 Dec 1898
Samantha Victoria (McIntyre)departed this life 4 August 1902
Mary Jane(McIntyre) departed this life 16 Dec 1860
Jane C.( I think it's a C) McIntyre 6 Jan 1870. (William James' mother.)
Births
William James McIntyre born 5 Nov 1826
Sarah Emaline McIntyre born 24 Dec 1836
Mary Jane McIntyre born 5 Nov 1860
William Jasper McIntyre born 26 April 1862
Samantha Victoria McIntyre born 3 May 1865
Jess Peeler McIntyre born 28 Oct 1868
Abner John McIntyre born 29 Nov 1870
Margaret Emaline McIntyre born 11 July 1874
James Sidney McIntyre born 26 Dec 1875
Thomas Nuton McIntyre born 26 Feb 1878
Daniel Archer McIntyre born 24 June 1881
William Burris McIntyre born 19 Oct 1902

Back to the Bible Records Index