William Carroll (Bill) Mecoy Bible Records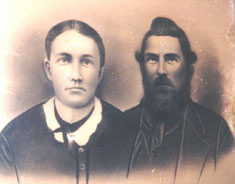 This family lived between Walnut and Tiplersville, Mississippi.
The tattered family pages are all that's left of the Bible. William Carroll Mecoy was the son of Abner Mecoy and Polly Ann Ferrell Mecoy, who settled in Tippah County in the 1830's.
Births
W. C. Mecoy was born February 3, 1833
N. M. Mecoy was born July the 25th 1842

W. P. Mecoy was born November 20th 1866
Abner Ferrel Mecoy was born November the 27th day 1868
Mary Elizabeth Mecoy was born April the 2nd day 1872
Joshua Willborn Mecoy was born June the 19th day 1874
Richmon Randolph Mecoy was born June the 11th day 1876
John Douglas Mecoy was born December the 3rd day 1877
Martin Samantha Mecoy was born October the 7th day 1880
her twin brother October 7th 1880
Robert Hardy Mecoy was born September the 20th 1886
Sarah Emeline Pickens was born October 23rd day 1866
Carrah B. Pickens (Hopkins) was born March the 1st day 1871
Deaths
Joshua Willborn Mecoy died February 13, 1958
W.P. Mecoy died June 22nd day 1867
Martin Samantha twin brother died November 1880
In Memory:
Death with all it's accompaning grief and desolation has taken from our midst a beloved and galant veteran of our own southland. Thus: One by one they cross the river, one by one they are gathering home and ere the hope of another decade, they will all have been numbered with pale nations of the dead. The subject of this sketch is William C. McCoy who was born February 3rd, 1832, died November 30th 1907.
I feel I have lost a friend, for a nobler and more generous soul never lived, always a friend to the down trodden or oppressed. The widow and orphan found both husband and father in him.
My dear old mother deceased, who was a widow, was often the recipient of his generosity and kindness of dependent gratitude that I bear testimony to these facts this morning.
The memory of W. C. McCoy will be dear to our hearts so long as we remain this side of the last dark river.
And I'm assured we were not the only ones to share his benovolence. There are many others who could testify to the same. He having taken several orphans in his home and reared and educated them as his own.
He had served his country in official: always with honesty and satisfaction.
Being of the Primitve Baptist faith he had never attached himself to any church, but can't believe him lost and like Corneluis of old, his prayers and aims will come up as a memorial onto the Lord and will be accounted to him for righteousness.
He was said to have talked beautifully the night before he died, quoting many passages of scripture, which was consoling evidence to his bereaved ones.
And may that when the cold hand of death shall unlock for the the portals of eternal life, and their bodies rest in the grave, their souls in the presence of the Lord to enjoy the bliss of the redeemed throughout eternity a reunited family.

One that loved him,
Mattie Frederick

These Bible Records were submitted by Melissa McCoy-Bell, who received them from Mrs. Laverna Mecoy Stark, who is the daughter of John Douglas Mecoy. To learn more about this family and it's history visit The McCoy/Mecoy Family History. The obituary was copied from the Southern Sentinel, and was originally published in December 1907.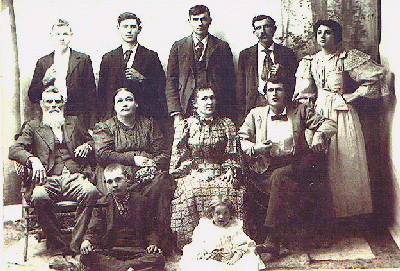 Pictured above are, front row left to right: Bob Mecoy and Zuel Hudson Ray: second row: Bill Mecoy, Nannie Mecoy, Lizzie Mecoy Hudson and Bart Hudson;
third row John D. Mecoy, Richmon "Dick" Mecoy, Joshua "Will" Mecoy,
Abner Ferrell Mecoy and Martin Samantha "Mantie" Mecoy Easley.
Back to the Bible Records Index

© 2006, by Melissa McCoy-Bell. All rights reserved.