New Salem
Primitive Baptist
Church Records
1843-1925
A special thanks goes to Virginia Murphree for providing us with these records.
New Salem Primitive Baptist Church is one of the older churches in Tippah County. New Salem Cemetery is located across the road from the church and holds gravestones dating back to before the Civil War. In the 1850 census, Tippah County showed the existance of 15 Baptist churches and at the time Baptist memberships were quite higher than any other denomination in the county. With the exception of 3 years during the Civil War, the minutes for the church meetings are pretty much intact.
When my father was a child in the early 1940's, he fondly remembers going to church by wagon to New Salem Home Coming for dinner on the grounds, which was held once a year in the Springtime.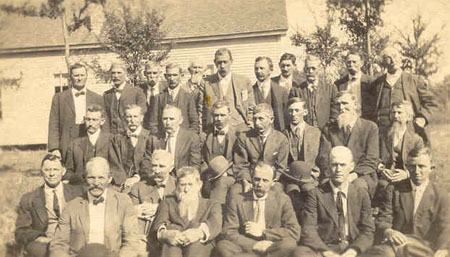 Thought to be the original church building in the backgound, this gathering of men probably took place in the 1920's, at New Salem Primitive Baptist Church. John Allen Rowland (1870-1941) is 3rd from right on back row, if you recognize any of the other men in the picture send me an email and I will add the name here.
(this picture was sent in by Diana Steward Flesner)

Tippah County Church Record Index


Melissa McCoy Bell
mccoybel@bellsouth.net
© 2001, by Melissa McCoy-Bell. All rights reserved.