WARREN COUNTY
MISSISSIPPI GENWEB PROJECT
---

Vicksburg Main Street School c. 1910
"I am a sucker for old photographs, and I find many in antique malls.
If they have one name on the photo and it is not too outlandishly high
priced, I have to buy it. I recently purchased in Brinkley AR, Monroe Co,
a wonderful photograph of school girls. It is in good condition, and has
21 girls in it and on the back is a list of the girls in the photo. The photo
itself is about 5 by 7, and is glued to a cardboard backing. The backing
has two corners broken off, but it does not take away from the photo."
"It apparently belonged to Josephine Hamilton 6th grade Main St School,
Vicksburg Miss, because that is at the top and the names are numbered
and she is number 1. All girls are named, except for one, and a guess is
made at another. The broken corner removed the first name of one girl,
number 21."
"I want to keep the old photo but would love to share it with Warren
County researchers and could scan and send it and would like to scan
the back also, with the names."
"I searched in MS, only in Warren Co in 1900 and 1910 for these young
ladies, I found most of them in one or the other and sometimes, in both.
I did find a couple with not so common names in other states. A search
in Soundex may help find the others. You may use any of this or recheck
it if you like. I would say this photo was taken about 1910, as some girls
look about 14 or 15, while others look younger."
<![if !vml]>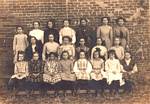 <![endif]>
Click on thumbnail for largr image
The writing on the back of the photo, with some census research added:
<![if !supportEmptyParas]> <![endif]>
Josephine Hamilton - 6th grade - Main St School Vicksburg, Miss
1. Josephine HAMILTON (I didn't find her in 1900 or 1910 in Warren Co MS)
2. Amanda PRICE (b Dec 1896, head, William PRICE, grandfather, her parents
also in this household, William Jr and Lena, 1900, page 29. Age 13 in 1910, page 30,
with her parents)
3. Annie SEARLES (b May 1897, head Thomas M SEARLES, 1900 page 46
4. Ella STEPHENSEN (b Feb 1899, head Nance STEPHENSON, 1900 page 212)
5. Maggie SMITH (Warren Co had over 300 Smith families in 1900 and 1920)
6. Tillie BARKIN (Joe BARKIN had one other daughter besides Eva, looks like
Treda or Freda. by 1920, this family was in Bexar Co TX, all born Russia)
7. Eva BARKIN (15 in 1910, head, Joe BARKIN from Russia, page 129)
8. O'Lena PINKSTON (b Jan 1895, head, S.O. PINKSTON, page 119, 1900,
in 1910, Sidney O. PINKSTON, page 141)
9. Juliette KAUFFMAN (12 in 1910, sister to head, I KAUFMAN, page 128)
10. Vallie HEARN (Valley, b Aug 1897, head, Eddie HEARN, page 186,
1900. In 1910, Edward, page 138)
11. Edna COFFIN (unable to find in 1900 or 1910 MS census)
12. Eva ______
13. Phoebe Lou ARTZ (b Jul 1898, head, Frank O ARTZ, page 65, 1900)
14. Alma NOLAND (b Mar 1898, head L.V.NOLAND, page 149, 1900)
15. Fannie THORTON (I think) (did not find in 1900 or 1910 Warren Co MS)
16. _____________
17. Emma MARSHALL (age 10 in 1910, head, Marion MARSHALL,
page 31, listed in 1900 age 11/12 as "Baby", page 31)
18. Ruth FOX (age 11 in 1910, head, Frederic R FOX, page 129. b Sep 1898,
found in 1900 in New Orleans LA, page 195 )
19. Josie EVANS (b Jun 1898, head Robert B EVANS, 1900, page 135)
20. Annie Vaughn HOGSHEAD (age 11 in 1910, head, Fred W HOGSHEAD, page 66)
21. _____le? ADAMS (In 1910, Teresa MURPHY had a daughter, named
Lucilla age 10, Ellis ADAMS had Katie age 12. In 1900, Allen and Teresa ADAMS
had Lucille, b Apr 1896)
<![if !supportEmptyParas]> <![endif]>
<![if !supportEmptyParas]> <![endif]>
<![if !supportEmptyParas]> <![endif]>
<![if !supportEmptyParas]> <![endif]>