Captain Tom Morrissey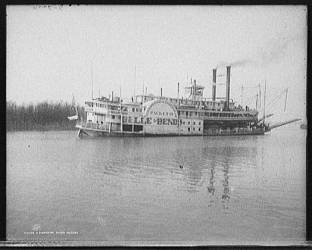 Photo Credit:Library of Congress, Prints and Photographs Division,
Detroit Publishing Company Collection.
The Waterways Journal, Saint Louis, Missouri 10 April 1943

Capt. Tom Morrissey Died Last Week at Vicksburg.
His Packets included Belle of the Bends, Duncan, Menge, Fall City and Ben Hur.
Thomas Michael Morrissey 68 known to many as "Captain" one of Vicksburg's
substantial citizens died at 9:PM on Sunday March 28, at his home 1117 Cherry
Street after a short illness. He was a resident of Vicksburg for 59 years going
there when he was a mere boy. He was born in Waterford, (sic) Ireland and
was a member of Saint Paul's Catholic Church.
Capt. Morrissey was closely associated with the business and civic life of
Vicksburg, being a large reality owner and a stockholder in large business and
banking interests. He was interested in steamboats and barges and levy buildings
and was well known up and down the Mississippi. At Eagle Lake he had a large
farm and his registered cattle took prizes. His interests were varied and many.
Surviving members of his family are his wife, Josephine Morrissey, a daughter of
the late Sam Romano (sic); one son, Michael T. Morrissey, and four daughters,
Mrs. E. V. Griefield, Mrs. Craig Nasahl, Mrs. Wylie Towne, Mrs. Jesse Jones Jr.
and Miss Hazel Morrissey all of Vicksburg: also another brother, John Morrissey,
living in Ireland and three sisters living in Seattle, Wash and eight grandchildren.
Captain Morrissey came to the United States when he was 10 years old and
went directly to Vicksburg. He attended Saint Aloysius High School. He was
engaged in business for himself at the age of 21. Capt. Morrissey operated a
fleet of steamboats between Vicksburg and Greenville and was well known up
and down the Mississippi.
During the flood of 1913 his boats did rescue work bringing many a family and
their possessions out of the high water area. He had the honorary title of
"Commodore" and was known to his friends as "Capt. Tom." He was a
devoted husband and a loving father and enjoyed home life. He was a loyal
friend and his word was his bond. He was most happy when aiding and assisting
others along life's roadway. Through his kindness and generosity many have benefited.
Funeral services were held on Tuesday morning, March 30 proceeding from the
deceased's home at 9 o'clock and from St. Paul's church at 9:30 o'clock, with
Monsignor D. J. O'Beirne officiating a requiem mass at the church. Interment was
at Cedar Hill Cemetery. Among many honorary pallbearers were Bart C. Tully of
Memphis and Mayor J. C. Hamilton of Vicksburg.

Contributed by Jesse Jones
Contributor's note:( My mother was in Annapolis, Maryland with my father when
he died. Since it was wartime and she was also afraid of flying, she came home
by train. Consequently Poppa Tom was waked for three days in the Pink Parlor
at the Big House waiting for Mama to come home. One of the days was set aside
for "Colored People" and they came by the hundreds. Ethel Kendrick has the
sign-in books. Most signed with nicknames that Poppa Tom had given them such
as Shortstuff, Son Ab, Alligator and some simply signed with an "X." It had to
have been one of the biggest funerals that Vicksburg ever had. I could not go
because I had the chicken pox. There are some mistakes in the obituary.
Josephine Morrissey's father was not Sam Romano he was her brother. We do
not think Poppa Tom was born in Waterford, Ireland. He was born in Tipperary. )
Update 11-7-2008:
I am the person who posted my Grandfather's Thomas M Morrissey's obituary. As an aside note
I stated that the obituary in the Waterways Journal dtd 10 April 1943 was in error when it stated
that Capt. Morrissey was born in Waterford County, Ireland. The article is correct. Thomas M.
Morrissey was born in Killmacomma, Waterford, Ireland on 4 Sep 1874. I have been to Ireland
since those comments were made and have seen his birthplace and birth certificate.
Jesse F Jones III
Son of Josephine Morrissey Jones and Jesse F Jones
<![if !supportEmptyParas]> <![endif]>