Contributed: January 2009
Submitted by James Rodney Bookout
Click the pictures to see a larger version.
1. The boy on the left is David Roy Bookout. The boy on the right is Troy Bookout. They are the sons of James Louis Bookout, Nita Lake Road. They are the grandsons of Elis Bookout CSA.
2. Gena Anthony Bookout with James Rodney Bookout, Fulton MS, 1949.
3. Bull Mt. Bottoms
3. View of Bull Mountain Bottoms from the Bookout Farm, 1945.


4. David Roy Bookout with grandson, James Rodney Bookout, 1945.


5. Eldred Cloyce Bookout and Eldred Doyce Bookout, 1917.


5. Old Bookout home on Nita Lake Road, Bookout Loop. (The house has since been torn down.)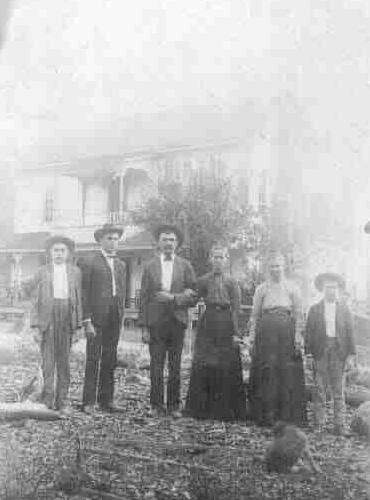 6. Bookout Family
6. Bookout family at the Old Bookout home on Nita Lake Road.


7. Log cabin on Lick Skillet Creek just above the bridge on Nita Lake Road. James Louis Bookout built it and then his son David Roy Bookout and Viola Moore Bookout started house here and the contributor's father, Eldred Doyce Bookout, was born here. This picture was taken in 1962, the next year the contributor could barely find the cabin and now the only sign of the cabin is a few fire place sand stones.


8. Gena Hester Bookout (right) and Ruby Odel Anthony Lunceford (left) at the Walter German Anthony home place just west of Mt. Pisgah Cemtery and Church, 1941.