1906 Spring Creek School
Submitted by Len E. Reinker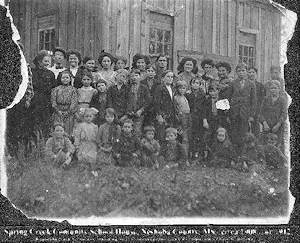 Click on picture for a larger view.
Here is another photo from my collection... a 1906 photo of children attending the Spring Creek community one room school house (NE Neshoba County area).
My grandfather, Reginald Nash Germany (1900-1904) told me he is standing next to the rectangular scratch... I marked on back that he is standing 3rd from right in the second row. Based on his apparent age I estimate this as taken in 1906.
However looking at this today when I scanned it, I think that based on other photos I have of him he could also be the older boy on the other side of the rectangular scratch... or this might be his older 1st cousin Rupert Cook who was born around 1895/1896. Therefore I leave open the possibility the photo could date from 1912 or so (to help others in possibly identifying their grandparents or g. grandparents pictured here.)
Note the smiles and and withheld laughter on some of the kid's faces... and the girl squeezing her friends chin... no rabbit ears in this photo but kids are always kids.
The thought occurred to me to check the 1910 census for school age children in the Spring Creek/Bond community and list them as possibly the kids in the photo...but that's another project.
Contact Us
Jeff Kemp - State Coordinator
Ann Allen Geoghegan or Denise Wells, Asst. State Coordinators
Questions or Comments?
If you have questions or problems with this site, email the County Coordinator. Please do not ask for specfic research on your family. I am unable to do your personal research. I do not live in Neshoba Co., MS and do not have access to additional records.