Welcome to the Marshall County, MS, website for genealogical research.

My name is Deb Haines, Coordinator of the Marshall County, MSGenWeb Project.

"Let the record be made of the men and things of to-day, lest they pass out of memory to-morrow and are lost. Then perpetuate them not upon wood or stone that crumble to dust, but upon paper, chronicled in picture and in words that endure forever." --Kirkland
---


Marshall County was established February 9, 1836, the year in which the Chickasaw session of 1832 was divided by the commonwealth into political organizations. It was named for John Marshall (1755-1835), third Chief Justice of the U.S., and formerly included within its area a considerable portion of Benton, Tate, and several other counties... more history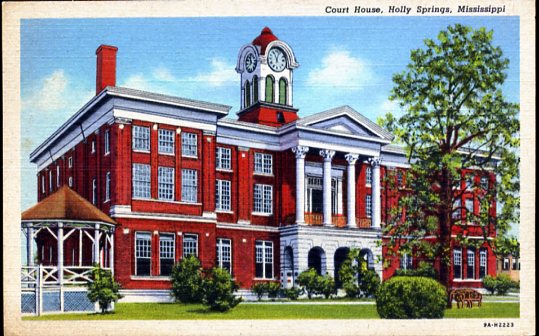 The first court house was built in 1837 and it was burned during the Civil War. The courthouse shown above was built in 1870 then remodeled in 1920.

---
Search Marshall County Website:

---
---
Please note: The Marshall County mailing list and the query/message board are excellent resource tools for asking genealogical and historical questions, requesting lookups, sharing information, locating cousins, etc. Please do not forget to use these resource tools to further your genealogical research.
---
What's New



---
---
MSGenWeb State Coordinator: Jeff Kemp
MSGenWeb Asst State Coordinator: Denise Wells or Ann Geoghegan
---