Welcome to Montgomery County, Mississippi!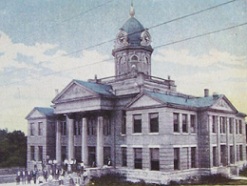 Welcome to Montgomery County, Mississippi, a part of the MSGenWeb and USGenWeb Project to provide free, on-line genealogical resources. I thought the old site was ready for an upgrade so please check back as I finish upgrading all pages!
Montgomery is located in North Central Mississippi approximately 100 miles south of Memphis, Tennessee and 100 miles north of the State Capital in Jackson, Mississippi.
I am a longtime amateur genealogist who has lived in Montgomery County for almost 30 years. I hope that you are able to find some information that will be helpful. Please feel free to offer suggestions for information you would like to see added. Contributions are greatly appreciated!
I am still looking for a teacher to assign a Biography assignment to her students. This was done in another county and the results were wonderful, preserving histories of our older family, community and church members. I have done this for several older family members and highly recommend using the basic form and doing this within your family. You will have fun and so will they. Please see under "Projects" tab for more information.
Thank you!
Sandy Ward, County Coordinator