Musgrove Cemetery
Submitted by Louise Merritt
It is located northwest of Philadelphia off of Hwy 19 and Co. Rd. 397. All the individual stones have been lost (if there every were any), however you can tell even now where several of the graves are located. It is beginning to be over grown with trees. It does/did have a fence around it. I have also been told that son-in-law, Henry H. Coghlan is one of the others buried there.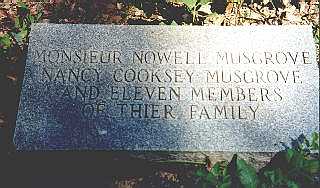 Musgrove, Monsieur Nowell 1802, SC - 1880, Neshoba Co (dates given by Monya Havekost)
Musgrove, Nancy Cooksey 1805, SC, - Sep 20, 1870, Neshoba (dates given by Monya Havekost)
Musgrove, Family members
Contact Us
Jeff Kemp - State Coordinator
Ann Allen Geoghegan or Denise Wells, Asst. State Coordinators
Questions or Comments?
If you have questions or problems with this site, email the County Coordinator. Please do not ask for specfic research on your family. I am unable to do your personal research. I do not live in Neshoba Co., MS and do not have access to additional records.