Wheatfield Congregational Methodist Cemetery
Submitted by Ann McDonald.
If you have any additions, please contact the county coordinator. Pictures submitted by Ann McDonald unless otherwise noted.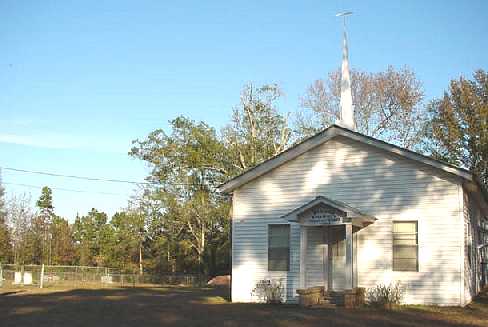 Belk, Chester G. Aug 30, 1926-Mar 6, 1990, shares stone with Thelma D.
Belk, Herman Oct 2, 1915-Jan 16, 1997, shares marker with Juanita
Belk, Juanita Mar 6, 1914-Nov 24, 1998, shares marker with Herman
Belk, Thelma D. Dec 5, 1928-Not Carved, shares stone with Chester G.
Comans, Eliza Pinter Wilkerson Welcher
Driskell, Christine "Kitty" Dec 11, 1925-not carved, shares marker with W. T. "Dub"
Driskell, W. T. "Dub" Sep 5, 1926-Oct 23, 1983, shares marker with Christine
Green, Elbert T. Jan 16, 1902-Apr 9, 1972
Green, Julia Everett Mar 18, 1883-Jul 17, 1965, shares marker with William A.
Green, William Andrew Feb 3, 1876-Aug 24, 1956, shares marker with Julia E.
Pinter, Benny McDuff Mar 14, 1883-Sep 17, 1946, shares marker with Inda
Pinter, Billy C. Nov 30, 1938-Oct 17, 1957
Pinter, Carlton born & died Mar 6, 1951
Pinter, Claude T. Aug 7, 1911-Dec 18, 1957
Pinter, Elvie, Sgt. Jul 9, 1914-Dec 15, 1944, 90th Inf. Div, WW II
Pinter, Inda Green Apr 14, 1892-Dec 19, 1970, shares marker with Benny M.
Pinter, James Michael Dec 27, 1954-May 5, 1956, son of Billy Pinter
Pinter, John H. Sep 11, 1926-Feb 7, 1996
Pinter, Lou Ella Dickerson Feb 17, 1883-Sep 28, 1968, shares marker with Luke
Pinter, Luke Warren Dec 5, 1880-Nov 25, 1964, shares marker with Lou Ella
Pinter, Quinton L. Apr 23, 1937-Feb 15, 1946
Pinter, Roman T. Jul 24, 1905-Oct 4, 1976
Pullin, Carl Gaston Jan 28, 1900-Jul 6, 1984, shares marker with Lena G.
Pullin, Hattie Mae Jun 18, 1918-not carved, mother, shares stone with Willie D.
Pullin, Lena Green Jan 1, 1905-Mar 3, 1986, Shares marker with Carl G.
Pullin, Thedro "Woodie" Pinter Jun 29, 1943-Nov 20, 1991
Pullin, Willie Dee Feb 13, 1924-Feb 26, 1966, shares stone with Hattie Mae
Questions or Comments?
If you have questions or problems with this site, email the County Coordinator. Please do not ask for specfic research on your family. I am unable to do your personal research. I do not live in Neshoba Co., MS and do not have access to additional records.