Electric Mills Ball Team ~ 1930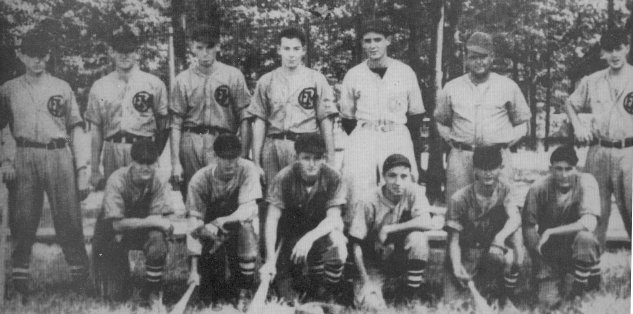 First Row: Left to Right
Dewey Dardy?, B. L. Cahoon, ? R. Lynch Jr., Percy Bell Cobb, Charles ?lton, Lipton Oubre
Second Row: Left to Right
Roy Woolridge, Travis Woolridge, Harold Barnett, Carlysle Poole, Reuther Murray Jones, Knox Dudley, Joe Shepherd
My name is Ed Ross of Medinah, IL. My family and I lived in Electric Mills, MS, from 1937-1941 when my dad was transferred to Chicago by the Alexander family who owned the mill in Electric Mills. I was one of the bat boys for several years for the baseball team. I can add and correct several of the names shown on the photograph of the baseball team shown on page three of the Electric Mills write-up based on my memory. Because the photo was of the 1930 team, a number of the players
were no longer on the team when I was involved.
Here are the names as I recall. A "?" means that I don't know if the name is correct.
First row: Dewey Dardy ?, Squeeky Cahoon, Junior Lynch, Percy Bell Cobb, Charles Hamilton, Lipton Oubre ? Second row: Roy Woolridge ?, Travis Woolridge ?, Shine Barnett, Ruth Murry Jones, Carlysle Poole, Knox Dudley, Joe Shepherd ?.
I was 5-9 years old when we lived in Electric Mills. I have great memories of this wonderful little ole town... the company store, dugalo money, the picture show, the night the hospital burned down, the white quarters and the colored quarters, the Eighth
of May celebration, the first night the GM+O streamliner came through town, fishing in the mill pond, and the great, great, people who lived in EM.
I would love to hear from any others who were fortunate enough to have lived in E.M.
Please either email me, or phone me at 1-800-932-5467 (business line), or 1-630-894-1834 (home number), if you have any questions about the above or any other questions about Electric Mills that I might be able to answer.
Best regards, Ed Ross, Box 424, Medinah, IL 60157
Contact Us
Jeff Kemp - State Coordinator
Ann Allen Geoghegan or Denise Wells, Asst. State Coordinators
Questions or Comments?
If you have questions or problems with this site, email the County Coordinator. Please to not ask for specfic research on your family. I am unable to do your personal research. I do not live in MS and do not have access to additional records.