Obituaries
If you would like to submit your ancestor's obituary, please send it to the County Coordinator. Please do not send anyone's obituary that died after 1940.
Thanks!
Eleazer Houston
Submitted by Imogene Casey
We can hardly realize that we can no longer behold the fatherly face, nor hear the loving voice of brother Houston this side of the river, but it is even so. His health had not been good for some time and for nearly two and one half months, he had been confined to his bed, suffering much, when on Sunday Night, June 13, 1880, death came to his relief. He was borned in Kentucky in 1804, moved to Mississippi while yet a young man, and settled in Wayne County. He moved again to Sumpter County, Alabama, and soon afterward to this County, settling in the neighborhood of New Hope Church. He claimed to have lived a Christian from Childhood. Our citizens can testify to his character for thirty-seven years. He was one of our most substantial citizens, an excellent neighbor, a consistent church member, a kind husband and affectionate father. Many rise up and call him blessed. As he lived he died. He was patient in suffering-- one of the most patient men we ever knew. He often assured us that all was well, and a day or two before his departure, calling his family and friends around, he exhorted them to meet him in Heaven, and begged them not to grieve for him, assuring them that he was "going home". He was the father of twelve children by his first marriage, all of them save three daughters had gone before him. His second wife and two little girls are left alone at the old homestead. The Lord will care for them. The loss to his family, to the community and to the Church is indeed great. We mourn, but not as those who have no hope.We will meet him in the resurrection, and if we emulate his virtues, will dwell with him in the mansions of bliss and glory.
Sarah Ann Elizabeth Peel Beazley
Obituary of Sarah Ann Elizabeth Peel Beazley in Kemper County Newspaper.
(Died August 17, 1918)
Necrological
Died on Saturday afternoon, August 17, at the home of her son, Charles L. Beazley, of the Antioch community, Mrs. Sarah Ann Elizabeth Beazley, aged about 85 years, after a long protracted illness. Wife of the late H. C. Beazley, a native of Virginia, a member of the Methodist church and was esteemed by all who knew her for her many womanly qualities an amiable disposition; widow of a Confederate Veteran. She leaves two sons, Jeff D. Beazley of Louisiana, and Charles L. Beazley of Kemper county, Mrs. Dr. Pool of Vicksburg, Mrs. W. A. Thomas and Miss Fannie Beazley to mourn her untimely departure. Funeral services were held in the Methodist church at Scooba, conducted by Rev. J. S. Slaughter.
Submitted by J. Guice
H. C. Beazley
Obituary in Kemper Co., MS newspaper - May 7, 1907
Mr. H. C. Beazley went to his reward last Thursday morning, and was buried the following day at Scooba. At 8 o'clock Friday morning a large number of his friends and neighbors assembled at his home to be present at his funeral services, at which his pastor, Rev. Jno. W. Ramsey, officiated.
Deceased was born in Carolina County, Virginia, on March 4th, 1820, and died May 2, 1907, aged 87 years, l month, and 28 days.
At 17 years of age Mr. Beazley left Virginia for Alabama, settling in Sumter County, where he remained until the year 1870; he then moved to Mississippi, locating about five miles northwest of Scooba, in Kemper County, where he continued to reside until the day of his death.
He was a member of the Methodist Church, and was faithful in his attendance upon all its ordinances. On the fourth Sunday in April he could not be convinced otherwise than that his pastor would preach at his church at 11 a.m. With this thought in his mind he went to the church, but finding no one present he returned home. As he ascended the steps on his return, he in some way fell backward, from which he sustained injuries which resulted in his death.
Three sons, Edward, James and William have gone before him into eternity. He leaves a life-companion (on the 74th anniversary of whose birth his death occurred), two sons, J. D. and C. L. Beazley, and three daughters, Mrs. M. C. Poole, Mrs. W. A. Thomas, and Miss Fannie Beazley, to mourn his loss.
Thus passes away another of Kemper's oldest citizens.
(Rev.) Jno. W. Ramsey
"Card of Thanks" published in Kemper County newspaper next to H. C. Beazley's obituary:
"The Herald is requested to tender thanks of the widow, children and immediate family of the late Mr. Harry C. Beazley to those who so kindly assisted in performing the last sad offices for their loved one, and to express their appreciation of the many kindly sentiments of sympathy for them in their loss. 'A touch of nature makes the world a-kin."
Submitted by J. Guice
Clark, Mrs. A. V.
Submitted by Carolyn Hennen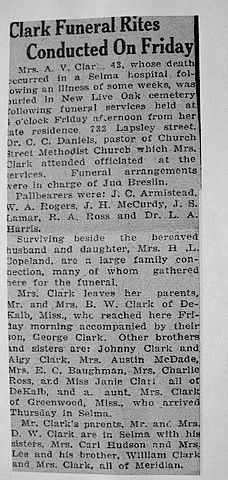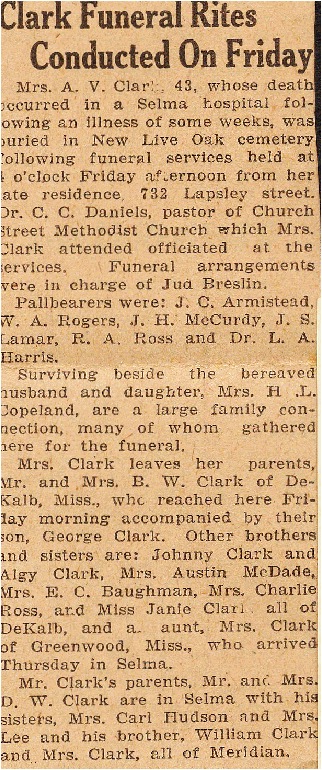 Questions or Comments?
If you have questions or problems with this site, email the County Coordinator. Please to not ask for specfic research on your family. I am unable to do your personal research. I do not live in MS and do not have access to additional records.