Stuart, William Davis
Submitted by George Stuart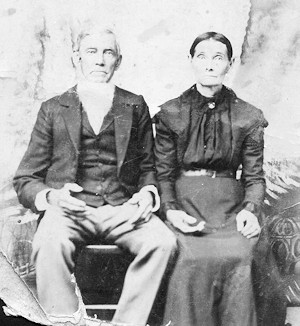 Click image for a larger view
William Davis Stuart was born somewhere in Alabama in 1823. He married Hannah Jones, daughter of Dudley Jones and Hannah Stainton about 1849 most likely also in Alabama. They (William and Hannah) appear on the 1850 Winston County Census listed as Stewart with six month old daughter, Polly, born in Alabama.
In 1850 his household was next door to Aaron M. Stewart and Lucy Haynes. A couple of houses over was the household of William and Polly Stewart. This was just north of Stallo over the Winston line. We have recently proven using DNA that this William Stewart was closely related and most likely the father of William Davis Stuart. Using DNA we have linked to one other Stewart/Stuart family in America. That family is sometimes known as the Cowpasture Stewarts because they settled in the mid-1700s along the Cowpasture River in old Augusta County, Virginia.
We are still looking for the paper trail back to this family. We have four descendants of William Davis Stuart and one descendant of William Stewart who match Y-DNA with that family as much as 111-markers out of 111 and none further off than two markers. We also have several family members who have tested autosomal DNA who also match some of those descendants of the Cowpasture Stewarts.
By 1860 William Davis Stuart and Hannah had moved near the Old Pearl Valley Church in the Arlington Community where they raised their family. Hannah inherited eighty acres of land from her father Dudley Jones in that area.
During the Civil War William Davis Stuart fought in Company G, 6th Regt. Cav., Runnels Company. He died in Neshoba County in 1907 and is buried next to Hannah at Old Pearl Valley Baptist Church.
Children were:
1. Mary Lodocia Ann "Polly" Stuart married John Thomas "Jack" Talbert. Some of their children used the Tolbert spelling.
2. Hannah Elizabeth Stuart married William A. "Bill" Rowe
3. Josephine "Jody" Stuart married John King Talley
4. William M. "Bud" Stuart married Texanna D. Marshall
5. Sarah Georgena "Bigger" Stuart married William Arthur Talbert
6. George W. Stuart never married
7. Missouri Stuart died young
8. John Leroy Stuart married Martha Elizabeth Tindol
9. James Monroe Stuart married Nancy Emma Musgrove
10. Henry Newton Stuart, MD married Cora Mae McKay
11. Jasper Marion Stuart, MD married Alice Marie Hyde
12. Elizabeth Ellanora Stuart died young
13. Thomas Franklin Stuart married Anna Ethel Stokes
We hold the Stuart Reunion every year on the second Sunday of June at Old Pearl Valley Baptist Church.

Contact Us
Jeff Kemp - State Coordinator
Ann Allen Geoghegan or Denise Wells, Asst. State Coordinators
Questions or Comments?
If you have questions or problems with this site, email the County Coordinator. Please do not ask for specfic research on your family. I am unable to do your personal research. I do not live in Neshoba Co., MS and do not have access to additional records.