Oak Grove Community, MS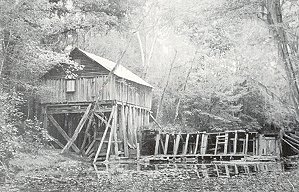 Grace's Mill, located in the Oak Grove Community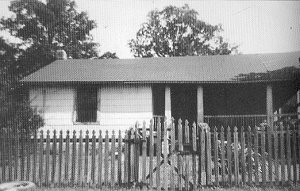 The old home of M. C. and Betty McLendon Smith and later M. C. Jr., and Lara Caraway Smith in Oak Grove. The home burned in 1974.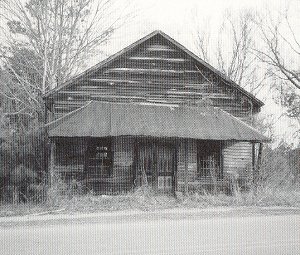 The old Kinnon Long Store in the Oak Grove Community.
From "Kemper County, Mississippi - A Pictorial History", placed here with permission by the Kemper County Historical Commission
---
Oak Grove and Its People
Contributed by: Gene Allred
Written By: Mrs. Ruby Bryan
Oak Grove was a little country village settled in east central Kemper County in 1855 by Mr. Louis May McLendon. He was born in Anson County, North Carolina on May 11,1807. He moved to Mississippi and settled at Oak Grove near the county seat of DeKalb and lived there until his death in 1886. He is buried at Union Church Cemetery - one mile from Oak Grove.
Mr. McLendon served one term in North Carolina as Sheriff and then served as Supervisor for Kemper County for five full terms. Louis May McLendon was the son of Joel McLendon and Susan Marshall McLendon and married Mary Ann Waddell on January 22,1836. Their children were Eliza Ann Marshall McLendon who married a Mr. Flake; William Gaston McLendon who was killed in the Civil War in a battle at Resaco, Georgia; Mary Elenor McLendon who married 1. Mr. Coleman and 2. Judge Bell; John Burch McLendon; and Louise Marshall McLendon born on January 10,1848 and died on Sept. 8,1912.
Louis Marshall McLendon lived in Oak Grove and practiced medicine there. He was educated in the county schools by W.M. Campbell, D.A. Lilly, L. Lilly, W. Wiffin, W.M. Pool, James Nolan, A. Kelly, Rev. Daniel Ellis and Mr. Haynes. The Civil War came at this time and prevented college education. He later graduated with a Doctor's Degree in Medicine at Medical College of Alabama in Mobile, 1873 - 1874. Dr. McLendon then married Mary Ann Cullum and had four daughters: Mary Elizabeth (Betty), Virginia Marshall, Margaret Wilma, and Modena Alyce.
Mr. Murdock Campbell Smith visited Oak Grove and met Miss Mary Elizabeth McLendon. They were married and had five children. They bought land from Mr. McLendon and built the house where Mrs. Dade Smith now lives.
Miss Bertha Smith married Mr. Lee Harrington. Louise Marshall Smith married Miss Connie Hall and had one daughter, Peggy. M.C. (Dade) Smith, Jr. married Miss Louva Caraway and had four children: Curtis Smith who married Kathleen Thigpen from Sperton, Georgia and has four children - Curtis, Jr., Kay, Johnny, and Kathy; Charles Smith who married Margie Ross; Mary Elizabeth Smith who married Cyrus White and had one daughter, Cindy; and Berthy Clyde Smith who married Richard Long and has two children - Brenda and Charles Richard.
Oak Grove sits on a red clay hill surrounded by great large gullies washed with rain and time. The hill was covered with oak trees thus the name Oak Grove. The Gainsville, Blackwater, and Jackson roads run thru the village as does the porterville and Dekalb, both the same.
Mr. Louis May McLendon owned part of the land in Oak Grove. He built a twostory house at the head of the largest, and deepest gully on the hill. This gully has snow white sand and a spring in it.
Two years after Louis May McLendon settled in Oak Grove, Mr. John L. Hunnicutt and his wife, a Miss McDade, moved to Oak Grove. Mr. Hunnicutt came from Alabama. He bought land and built a home. He bought the land across the road from his house from Mr. Mclendon. The land was 50 feet by 100 feet and there Mr. Hunnicutt built a store.
The next year, Mr. Will Naylor married one of the McLendon girls. They built a house and a store also. Mr. Naylor passed away in 1928.
Dr. Walter W. Holliaday came from Cooksville in Noxubee County. He lived with Mr. Hunnicutt for a year. He then bought land across the road from Mr. Hunnicutt's house and built a house and an office, where he practiced medicine. He married Miss Bobby McKelvaine and had several children. Miss Ada Holladay who taught school in Meridian for a number of years and then was Librarian at Meridian Junior College for a time; Miss Inda Holladay who married Mr. Ed Curtis and had one daughter, Inda Dorothy who married Mr. Tommy Jolly and both are now deceased; Miss Mable Holladay who married Mr. Frank Hulett and had one daughter, Winona Rush; Walter Holladay became a doctor and married Miss Rosalie ****** and had three children, Dr. Walter Robert Holladay, Jr., Mr. Eddie Holladay, and Miss Marjore Holladay; and the youngest son, Dr. Ellington Holladay married Miss Ivon **** who taught school at Poplar Springs Drive for a number of years.
Dr. Frank Rogers married Miss Mary Elizabeth Smith. They lived in Oak Grove for three years and had a son, Willie Rogers. Dr. Rogers practiced medicine with Dr. Holladay and later moved to Porterville.
After Mr. Louise May McLendon died, his son, Dr. Louise Marshall McLendon lived in the two story house and has an office in the front of the house. He moved from Oak Grove to Brewton, Alabama and then to Canoe, Alabama where he died in 1912 and is buried.
Mr. Dudley Rush bought the McLendon home in 1903 and moved to Oak Grove. He married Miss Sallie White from Moscow, Mississippi. They had a large family of ten children: seven daughters, Mamie, Lela, Alma, Willie, Bessie, and Winona; and three sons, Dr. Albert and his twin brother, Arthur who died at four years of age, and Dr. Clarence.
Dr. Albert died young. Dr. Clarence lived in Vaughan, Mississippi. He had two daughters and one son, Dr. Benjamin Rush.
Miss Mamie Rush taught school at Mississippi City, Mississippi. Miss Lela married Mr. R.P. (Pub) McKelvaine and had three children: Earl who married Annie Laurie ****, Myrle who married Franklin Heard, Lois who married Frank Jones and had two sons - David and Donald Jones of Meridian. Jessie married Lawyer Sanford Graham of Meridian. Willie and Nona Rush had typhoid fever and died in Oak Grove. Bessie married Charles Galloway and lived down on the Mississippi coast. Myrle and Franklin Heard lived at Vaughan, Mississippi. Earl and Annie Laurie lived in Dekalb. Mr. Rush sold his home to his daughter, Lela and her husband, Pub McKelvaine. Mr. and Mrs. Rush moved to Mississippi City to live.
Mr. Will Carter married Miss Sallie Garner and live in the house next to Mr. Hunnicutt. Mr. Carter has a store by the house by where he lived. They had two children -- Helen and Walter. Helen married Mr. Barkley Roberts and lived in West Point. Walter married Miss Bessie Duke in Scooba and had three children: William Duke White who married a Miss White and live in Yazoo; Walter Carter Jr. lives in Olive Branch; and Annie Hoye Carter who married Mr. J.K. Morgan, Jr. and lives in Jackson.
Mr. and Mrs. Will Douglas lived at one time, later in the Carter house and raise a big family there. The children; Ina, Annie Laurie, Bessie, Herbert, Walter, Willie, Max, Rollins, and Remers Douglas all went to school at Oak Grove.
The first school house was east of the big gully. It stood in a large grove of oak trees. It was later made into a dwelling house. Mr. and Mrs. Pub McKelvaine lived there when they first married. Later it housed Mr. and Mrs. Oscar Hall, Mr. and Mrs. Cal Hall, Mr. and Mrs. Jim Hall and a number of other families over the years.
Back to the Hunnicutt family, Mr. Hunnicutt and his first wife had three children - Will, Sallie and Jim. Will, became a doctor and moved to Asheville, North Carolina. Sallie married Dr. Jim Rush of Kipling and moved to Waynesboro. Jim married Miss Lela Rush who was the sister to Dr. Jim Rush. They had one daughter Christine.
Mr. Hunnicutt's second wife was Miss Eliza Smith the sister of Mr. Campbell Smith. They had two daughters - Nealie and Lula. Miss Nealie Hunnicutt married Dr. Hack Rush who founded Rush Memorial Hospital in Meridian. They had three children - Dr. Lowry Rush who married Miss Geneva Hudson and had a son, Lowry Jr.; a daughter, Dorothy; and another son, Dr. Leslie Vaughan Rush - all of Meridian. Miss Lula Hunnicutt married Mr. George Clopton of Dekalb.
Mr. Hunnicutt's third wife was Miss Mary Wright of Tomola, Mississippi.
Mr. Hunnicutt's brother, Bob, was a cripple, he lived across the road from Dr. Holladays office, in one end of the guest house that Mr. Hunnicutt had for their guest who would come every summer to visit in Oak Grove. Judge Woods and family from Meridian would come every summer and stay in the guesthouse.
Mr. Hunnicutt had a sister, Mrs Nicholson who would later live in the house where Dr. Rogers first lived. She had three daughters, Belle, Julia, and Emma. Emma married Mr. Cherry of Townsend and had Ebb, Harvy, and Annie Pearl. Ebb, and Harvy both married sisters, Sara and Ruby Peel. Annie Pearly married Earst Bryan of Binnsville and had one son Leo. Earnest died and she later married Neely Merrill and had one son Roger.
Mrs. Tom Graham later lived in the Nicholson house. She had five children; four daughters - Alice, Minnie, Jessie and Josie, and one son, Robert.
A niece, Miss Cora Skinner, lived with the Hunnicutt family.
In later years, Mr. Jim Hall bought the Nicholson house and lived there a number of years. Their son, Henry (Bud) Hall married Miss Almeda Evans and had one son, Collins. They all lived there together. After Mr. and Mrs. Hall and Henry passed away, Almeda and Collins lived there a number of years. They moved away and sold the place to Charles and Margie Smith who live there now.
Now go back to the school in Oak Grove. Alarge two-story building stood on the corner across the road in front of the McLendon's old home. The first floor was the school. The upstairs was the Masonic Lodge. It sat in a large grove of oak trees and near the head of the big gully. There was a large crowd of boys and girls that went to school there. Some of the first teachers were: Prof. Tom Hamner, Prof. Tom Hall, Mr. E.W. Stephenson, Miss. Menerva Moore, Miss. Viola Mosley, Miss. Minnie Graham, Miss. Pauline Swearingen, Miss. Nona Hunter, Miss. Nonnie Madison, Miss. Lillie Warren, Miss. Bessie Stennis, Miss. Emma Davis, Miss. Lula Hunnicutt, and Miss. Vivian Van Devender (I do not have them in the order that they came).
When Dr. Holladay's children were ready for college, he built a nice home in Meridian and moved his family down there so they would have the advantages of good schools. His daughters went to Meridian Womans College or Beason College. Miss Ada Holladay later taughter school in Meridian and was Librarian at Meridian Junior College for a long time. Mrs. Holladay's mother, Mrs. Mollie McKelvaine and Dr. Holladay's sister, Miss Mattie also a school teacher, lived with Dr. and Mrs. Holladay. Dr. Holladay continued to live at Oak Grove. He was the only doctor between Porterville and DeKalb. He was much loved and respected by everyone, old and young, black and white.
In years past when the roads were next to being impassable, he rode two saddle horses named Chester and Josephus. He later had a top buggy and a horse. When roads improved, he drove a Dodge car. Dr. Holladay passed away 1939. Mrs. Holladay died December 31,1932. They are both buried in Meridian.
There were several families who lived in the Holladay house at different times. Mr. and Mrs. Richard Rea, Mr. and Mrs. Bob Pool lived in the house with Dr. Holladay. Later Mr. and Mrs. Coleman Little and family lived there. Mr. and Mrs. Ed Curtis and Mr. and Mrs. Boren were the last families to live there. The house and office were torn down and sold. Trees, bushes, and vines have taken over and you can hardly tell that the Doctor's house ever stood there.
The schoolhouse was the center of entertainment in Oak Grove. Along about 1908, the young people organized a skating rink at the schoolhouse. A second floor was laid over the first to make it strong and smooth to skate over. There were some good skaters there.
At Christmas time, they would have a Community Christmas tree for the young and old. The young people would have spelling bees, school plays, and box suppers. The young ladies would bake all kinds of goodies to fill their boxes, wrap them in pertty patter and tie them with ribbons and bows - then the fun would begin. The boys would see who would bid the highest to get to eat supper with the girl who prepared the box. There used to be a traveling circus to come thru the country and stop at Oak Grove and entertain at the schoolhouse. There would be elephants, monkeys, sideshows, and a big tent with performances in it.
Miss Vernon Caraway organized the Epworth League at the schoolhouse. There would be programs and singings. Sometimes there would be preaching there. It was sold to Mr. Walter Rogers at Porterville and torn down and moved. In 1898, the Post Office was put in Mr. Hunnicutt's store, there was a Star Route from Sander's Mill by Oak Grove to Succarnoochee. Mr. Silly Cullum carried the mail for years. Then a colored man, Alex Page carried it until Marion Moore was appointed as the first rural mail carrier to Oak Grove and the rural ares. He carried the mail for several years, then Louie Lamon carried the mail for thirty eight years.
The lovely old McLendon-Rush-McKelvaine home is still standing. One of the large chimneys has fallen but the large crepe myrtle trees are still standing. It marks the era of a flourishing village. Oak Grove being on a high hill, it was hard to get wells to afford water for all the people who lived there. The wells were bored deep into the ground. The buckets were long and round with a flap on the bottom that would open when lowered into the water. The bucket would fill with water closing the flap when raised. The bucket was drawn up by hand using a rope and windlass. Several families would use water from the well. The well would cave-in and fill with sand and then another well would have to be dug. There were three springs close by under the hills that would afford water for washing clothes.
Mr. Hunnicutt passed away on May 5,1920. His wife, Miss Mary, wanted to sell her home and the store. It was offered for sale. Mr. and Mrs. Walter Jones, having once lived near Oak Grove, had moved to Alabama and wanted to move back to Kemper County. They bought the store and moved in 1920. Mr. and Mrs. Jines had one daughter, Ruby. She married Oscar Bryan of Scoob and still lives there. The Bryan children spent their vacation every summer with their grandparents. They spent many happy days with the Dade Smith children, roaming the hills, and gullies, hunting chimquipins, wild grapes, persimmons, blackberries, muscadines, and going possum and coon hunting at night. Oscar jr. and Walter Bob Bryan found the girls they later married, Miss Frances Sanders and Miss Susan Long, living near Oak Grove. Evelyn Bryan was born there in her grandfather's home.
Mr. and Mrs. Jones lived there for twenty-five years. Mrs. Jones passed away in 1946 and Mr. Jones sold his home and store to Kenion Long. Mr. Jones went to live with his daughter near Scooba. He lived there 19 years and passed away in 1965 at the age of 91.
Mr. Kenion Long lived at Oak Grove twenty years and passed away in 1966, I believe.
Mr. Long married and left Oak Grove. He sold the Hunnicutt house and it was torn down and moved, also the barn. Not anything is left now but the store. Mr. Dade Smith passed away in 1965 and Mrs. Dade Smith lives in the old Smith home. Charles and Margie Smith live across the road where the Hall families lived.
Three lonely chimneys now stand as sentinels on guard to mark the place where a cultured, happy village once stood.
There are two important places not yet mentioned - Union Methodist Church and Center Ridge Baptist Church. The Union Methodist Church, one-mile north on the DeKalb road, with the cemetery adjoining the church, was founded in 1860. The Center Ridge Baptist Church founded by the Rev. Michael Ross in 1846 is one and one-half miles west of Oak Grove. Many of the people who once lived in Oak Grove are buried in these two cemeteries - may their souls rest in peace.
There were sixteen doctors that were directly connected by birth or marriage that are descendants of these people who lived in Oak Grove: Dr. Louise Marshall McLendon, Dr. Walter W. Holladay, Dr. Frank Rogers, Dr. Will Hunnicutt, Dr. Jim Rush, Dr. Hack Rush, Dr. Albert Rush, Dr. Walter Robert Holladay, Dr. Clarence Rush, Dr. Ellington Holladay, Dr. Lowry Rush, Dr. Leslie Rush, Dr. Lowry Rush, Jr., Dr. Leslie V. Rush Jr., Dr. Benjamin Rush, and Dr. Walter R. Holladay, Jr. There was one lawyer, Mr. Sanford Graham and his son, Judge Jesse Graham of Meridian and attorney Fred Rogers of Meridian is the grandson of Dr. Frank Rogers of Oak Grove and Porterville.
Published in the Kemper County Messenger 1997
P.O. Box 546
DeKalb, Mississippi 39328
(601) 743-5760
Printed here with permission