Obadiah Community, MS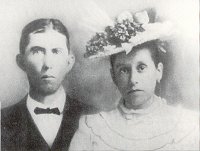 Founders of the Hughes Telephone Company, Dolphus E. and Ollie D. "Pa and Ma" Hughes.
The Hughes family, spring 1919. Left to right: daughter Lottie, son Yerby, Pa, Ma, daughters Vona and Edna, friend Emma Clyde Talbert and daughter Berta Lee.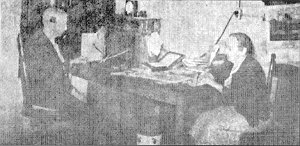 "Pa and Ma" Hughes at the "switchboard and desk" in their old store busy about the business of Hughes Telephone Company.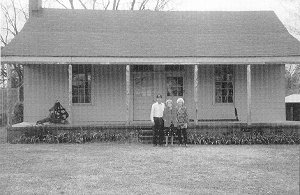 Home of the first switchboard in DeKalb, Mississippi. In the early years the board was operated by Lottie Hughes Lackey (center). In later years the system was operated and maintained by Willie James Lackey (left). Wife Jacquelyn Lackey is on the right.
Bert Avara Store and Telephone Exchange in Obadiah, circa 1911. Due to the death of six children within this community, including their own son, three year old Benjamin, Dolphus E. Hughes and wife Ollie felt the community needed telephone service. They purchased the system, which remained Hughes Telephone Company until 1989. A museum was established at that time. Back row left to right: Jim Sanderford, Will Talbert, Dolphus E. Hughes, Bert Avara, Ora Avara, Ollie Hughes, Vona Hughes, Lottie Hughes, June Vann, Fred Wilson, Yerby Hughes and Lee Jenkins. Front row left to right: George Wilson, U.L. Wilson, Leo Avara, George McCall and Mack McCall.
Contact Us
Jeff Kemp - State Coordinator
Ann Allen Geoghegan or Denise Wells, Asst. State Coordinators
Questions or Comments?
If you have questions or problems with this site, email the County Coordinator. Please to not ask for specfic research on your family. I am unable to do your personal research. I do not live in MS and do not have access to additional records.