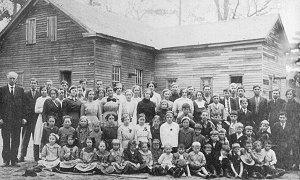 Cleveland School students and teachers Professor Bryan and Gladys Griffin.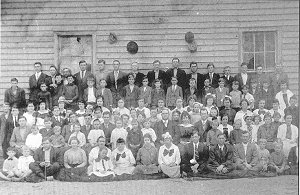 Cleveland School, circa early 1900's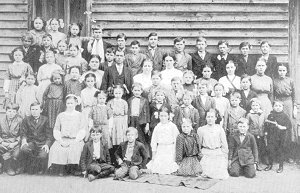 Cleveland School. Seated: Clark Adams, Alonzo Stewart, Irene Clark, Clayton Rainey, Willie Peden, Ellen Rainey, Lillie Peden, Winnie Peden and Sam Mitchell. Standing, front row: Bertha Clark, Rosa Wilson, Annie Wilson, Anna Clark, Bernice Mitchell, Madge Mitchell, Wilmer Davis, Stanton Daws, Oscar Adams, J.H. Adams, Janie Clark, Clark Mitchell, Tommy Adams and Bethany Daws. Second row: Minnie Clark, Beatrice Land, Ruby Clark, Nell Clark, Bud Daws (teacher), Laura Clark (teacher), George Mitchell, Katie Mae Stewart, Milton Land, Vera Adams, Jodie Clark, Ethel Daws, A.B. Wilson, Eva Mitchell and Gladys Clark. Third row: David Peden, Lawrence Daws, Obera Mitchell, Eugene Clark and Algie Clark. Fourth row: Iva Clark, Ina Peden, Elzie Mitchell, Elmer Clark, Henry Peden, Clay Clark, Deaton Mitchell, Pettus Clark, Tom Wilson, Percy Peden and Maurice Daws.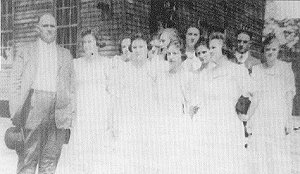 Graduation class, Cleveland School, April 22, 1920. Front row left to right: Professor Edd Clark, Sarah Palmer, Minnie Clark, Ruby Clark, Beatrice Land and Vera Adams. Second row: Anna Clark, Irene Clark, Winnifred Allen, Maggie Adams, Bertha Clark and Eugene Clark.
From "Kemper County, Mississippi - A Pictorial History", placed here with permission by the Kemper County Historical Commission.