1st MS Cavalry, Co. E,
"Wood's Regiment"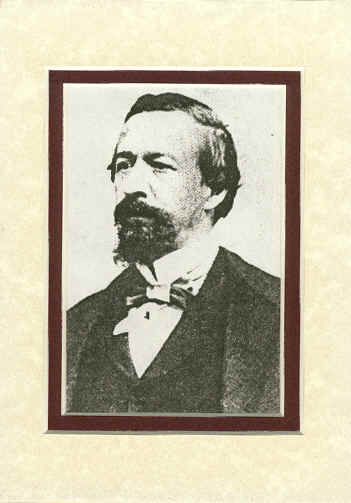 Col. Wirt Adams
Originally called First Mississippi Cavalry. Wood's Regiment after the promotion of Adams. 
The Name of the Regiment
Those not accustomed to reading about regiments in Confederate service will be challenged by the lack of system by which they were named. Some regiments were assigned numbers, e.g., "Third Alabama Cavalry" for a state unit, or "First Confederate Infantry" for a Confederate unit. Often, these regiments are also alternately referred to by the names of their commanders, e.g. "Jones' Cavalry" or "Smith's Infantry."

Still other regiments, such as Adams' (later Wood's) Cavalry had no numerical names, but are solely referred to by their commanders' names.

An added complexity with Adams' Cavalry is that for a short time, until 21 December 1861, it bore the name "First Mississippi Cavalry." On that date, its name was officially changed to "Adams' Cavalry." It kept this name until November, 1863, when, upon the elevation of Robert C. Wood as commander, its official name became "Wood's Mississippi Cavalry," though it was often still informally called by its earlier name, "Adams' Cavalry." After the 1861 name change, the name "First Mississippi Cavalry" was given to an entirely separate unit. 
Patrick T. Dolan
Colonel - Wirt Adams, promoted Brigadier-General Sept 25, 1863
Lieutenant Colonels - Robert C. Wood, Jr., Thomas Lewers, Stephen B. Cleaveland
Majors - James Hagan (transferred to Alabama Artillery), Isaac F Harrison, Thomas Lewers, Stephen B. Cleaveland A. Muldrow
Captain of Company E- A. Muldrow
Organized for the war on Oct 15, 1861. 
Battles: Woodbury (detachment) October 29, 1861
Morgantown (detachment) October 31, 1861
Scout in the vicinity of Russellville (detachment) April 8, 1862
Reconnaissance from Shiloh Battlefield (detachment) April 8, 1862
Corinth Campaign - April - June 1862
Iuka - September 19, 1862
Corinth - October 3-4, 1862
Central Mississippi Campaign (October 1862- January 1863)
Grierson's Raid - April 17 - May 2, 1863
Union Church (skirmish-three companies) April 28, 1863
Vicksburg Campaign - May - July 1863
Raymond - May 12, 1863
Big Black River Bridge (detachment) May 17, 1863
Yazoo River - May 23-31, 1863
Jones Plantation, near Birdsong Ferry- June 22, 1863
Meridian Campaign - Feb - March 1864
Concord Church - December 1, 1864
Wilson's Raid - March - April, 1865
Listed below are the surnames of men enlisted in Co. E, Wood's Regiment of Confederate Cavalry (CSA). Wirt Adams was its first commander, then Robert C. Wood. This list of surnames was donated by Tom Neely. If you have additional questions, you may email him. If you have additional information to add, please email Marsha.
Anderson Archibald
Beasley Bell
Billington Bookter
Brower Brown
Bryan, Henry S.   Lost his leg in one of the battles  -Marsha Bryant Bunch
Carl, William Howard   buried in West Bend, Al  -Donnie Smith Carothers
Caruthers Cassady
Cavanah Chandler
Clower Colman
Connell Cooper
Copeland Cromwell
Curry Davis
Delorme Deshazo
Dixon Dobbs, Jesse Jarvis buried in Dobbs-Bowles Cemetery in Choctaw Co., MS, entered as private and paroled as private after the surrender -- Linda G. Hayes
Douglass Ellis
Embry Ennis
Erwin Farmer
Fulgham Fulghen
Gibson Gilbert
Gill Gillespie
Gilson Glenn
Grant Green
Greene Harrell
Henderson, Ellis   Enlisted Aug 18, 1864, Macon, MS Henry
Herron Hilgers
Hogan Hood
Hughes Isbell
Jacob James
Jenkins Johnson, Elijah Jefferson- buried in Pilgrim's Rest Baptist Church cemetery, located on Highway 315 , Panola, Co. MS , six miles South of Highway 6. 
Jones Joyner
Kelly Key
King Knight
Lanier, John M. Lampkin
Leverett
Lewis Lightfoot
Logan Lykes
Lyons Maberry
Mackey Makamson
Mansfield Marquis
Martin Matkins
May May
McClellan McDowell
McKenzie McKinzie
McVey, Virgil Smith     buried in Spring Hill Cemetery in Choctaw Co., MS, entered as private and paroled as corporal after the surrender -- Linda G. Hayes Miers
Mitchell Mohon
Montgomery Mooring
Mooty Morgan
Moss Muldrow
Nash Nichols
Oliver Owen
Owens Passons
Pearson Pernell
Perry Puller
Quinn Quinn
Rasberry, Francis M.-Enlisted in Tibbee MS on 11/18/1861 for 1 year by LT Bookter. Entered and paroled as a private. -- Linda G. Hayes Robertson
Russell Sawyer
Saxon Smith
Sprouse Stark
Strong Sturdevant
Sugg Teague
Tharp Thomas
Thompson Toombs
Valentine Vinson
Ward Watson
White Williams, William J. enlisted and paroled as a private, -- Linda G. Hayes
Wilson Woodruff
Wooten Yeager
Rowland, Military History of Mississippi, 1803-1898, Brandon, 1908
Sifakis, Compendium of the Confederate Armies - Mississippi


Questions or Comments?
If you have questions or problems with this site, email the County Coordinator. Please to not ask for specfic research on your family. I am unable to do your personal research. I do not live in MS and do not have access to additional records.