Center Ridge Baptist Church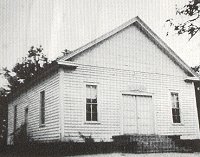 Sulphur Springs Church - Center Ridge Church (the first frame building)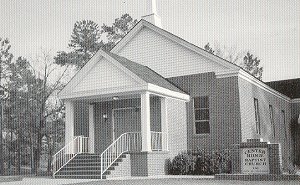 Center Ridge Church, present day.
In 1846 the Sulphur Springs Church, later changed to Center Ridge Church, was organized. Rev. Michael Ross organized this church and served as pastor for that year and again from 1850-56. Mr. Peter P. Cullum gave six acres of land for the church and cemetery. Some of the charter members were: Mr. & Mrs. Nethery, Mr. & Mrs. Peter P. Cullum, Mr. Axum Sanders, Sr., Mr & Mrs. Hill, Mr. & Mrs. Dabbs and Mr. & Mrs. Fortner.
The first church was built of logs. In later years, Peter P. Cullum sawed and donated heart pine timber for the first frame building. He was one of the charter members and was a deacon from 1846 until his death in 1886.
Some of the former pastors of Center Ridge Church were: Rev. Michael Ross, 1840-46; John Whit, 1855-60; Duncan until 1865; then Nichols to 1881; H. D. White until 1884; Gary Gay to 1890; Frank Gunn until 1892; J. H. Newton until 1905; Nele Brame, 1906; Frank Gunn, Jr., 1907; Woodruff, 1908-1912; and other with no dates recorded, including Bob Bell, J. L. Williams, L. S. Spinks, Cary Cox, Deb Lee Stennis, O. R. Mosley, W. W. Miller, R. M. Newton, McAdory, H. C. Joyner, J. J. Newton, Melva Morton, M. J. Gilbert and Clyde Davis (not listed in any order).
From "Kemper County, Mississippi - A Pictorial History", placed here with permission by the Kemper County Historical Commission.

Contact Us
Jeff Kemp - State Coordinator
Ann Allen Geoghegan or Denise Wells, Asst. State Coordinators
Questions or Comments?
If you have questions or problems with this site, email the County Coordinator. Please to not ask for specfic research on your family. I am unable to do your personal research. I do not live in MS and do not have access to additional records.