New Hope United Methodist Church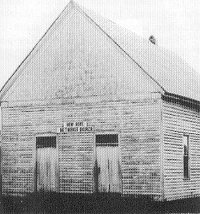 New Hope UMC was established in 1838. This picture is the second church building. There is no record of the first building. Some believe it was a log structure. This building was constructed in 1850.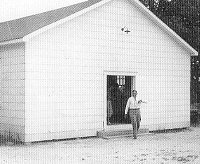 This church building was constructed in 1947. Mr. Clark Eldridge is leaving the building.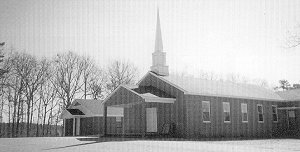 In later years a porch and Sunday School rooms were added. Still later the church was bricked and the interior remodeled. The fellowship hall was built in 1995.
From "Kemper County, Mississippi - A Pictorial History", placed here with permission by the Kemper County Historical Commission.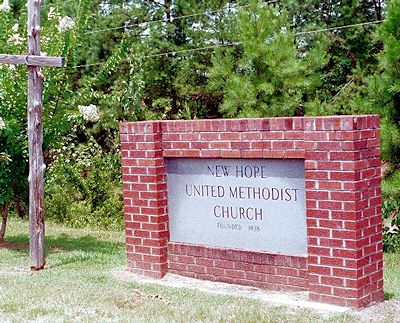 New Hope United Methodist Church
Submitted by Bonnie Evans.
History below submitted by Imogene Casey
New Hope as pictured in "Kemper County Churches" was just before its demolition. The Church building which stood for a hundred years was built by William Eldridge Riley before 1850, but I never asked how much before. It was built on a five acre plot donated by the Lovelady family. Some years later, ten adjoining acres were given, probably by Martha Jane Lovelady Houston. Records were burned, and the church was allowed only two of the ten in the survey--giving seven acres in all.
Riley sawed the lumber with a pecksaw which had two teeth, and smoothed it with a hand plane. It was put together with wooden pegs and a few nails which looked as if they had been made by a blacksmith. If one looks closely at the front gable in the picture, some intricate woodwork is still discernable. The ceiling boards inside were of random width and like heart pine. The pews were made of the same pine lumber--having a very wide board for the backs and one not so wide for the seats. there were three rows of seats, short on each side and long in the middle. A one by four was placed across the top of the center row of pews, thus dividing the sanctuary into half so that men sat on one side and women on the other. When I was a teenager, we held hands with our sweethearts underneath the board.
According Cornelia Cridele Houston Riley and Elry Riley, there was an extra room or balcony where the slaves sat--probably with the little children. I never was able to find where it had been and imagine it was torn away or was in the steep loft.
In 1933 the walls began to pull away from the ceiling at the eaves. Mr. Bill Eldridge and Mr. Irvin Riley went to Meridian and bought two big turn-buckles to pull it back together, and it stayed that way until the late forties or early fifties when the congregation decided they must put up a new building.
The new building was a built of wood by Mr. Irvin Riley, Mr. Lewis Eldridge and their boys. It was bricked in later, but I don't have the date.
Two of my brothers, My parents, my grandparents, and all of my great grandparents except one who was left on a battlefield are buried in New Hope Cemetery.
Sincerely,
Imogene Riley Casey
PS
Some believe that Eleazer Houston gave the land. He owned the eastern half of section two. Overstreets owned the northwest 1/4 of section 2, and the southwest 1/4 was owned by the Lovelady family. The church is located in the southwest 1/4. My grandmother, Eleazer Houston's daughter said the five acres were given by two maiden ladies named Lovelady. Martha Jane Lovelady married My grandmother's brother, Jefferson Houston.
Contact Us
Jeff Kemp - State Coordinator
Ann Allen Geoghegan or Denise Wells, Asst. State Coordinators
Questions or Comments?
If you have questions or problems with this site, email the County Coordinator. Please to not ask for specfic research on your family. I am unable to do your personal research. I do not live in MS and do not have access to additional records.