Porterville United Methodist Church
Porterville, MS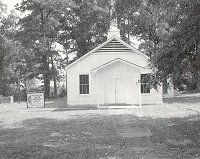 The second church built on site. Services were held each Sunday, 1946-1989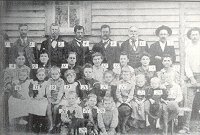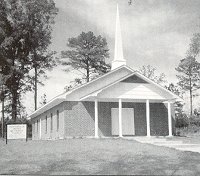 This is the third church built on this present lot. The original church was torn down and rebuilt shortly after World War II. That church was torn down in 1988 and was replaced by the present building, which was completed, furnished, and dedicated in April 1989.

The first recorded reference to a church was circa 1890 when the post office was established and the name of the village was changed from Maryville to Porterville. No records could be found as to when a church was first organized nor where the services were held.
The records of the Mississippi Methodist Annual conference for 1891 gives this account: "George Bancroft, on the Porterville Circuit, held meetings in which he was assisted by J. M. Pugh and D. C. Langford, and preachers from Alabama and 16 were received into the church to date." No other references could be found in the conference yearbooks.
Mr. Thomas M. Boyd who moved to Porterville to become the railroad station agent on Jan 1, 1892, stated in his memoirs that he and Mr. Dick Porter who came there about the same time to operate a store, were instrumental in getting the first church built. It was built by members of the community, as was the custom for building homes, schools and churches. The church was put to use immediately after it was completed. The story is that when the building was completed, the workmen piled their tools in the corner and sat with the women, children and elders who has been patiently waiting to have their first service.

Contact Us
Jeff Kemp - State Coordinator
Ann Allen Geoghegan or Denise Wells, Asst. State Coordinators
Questions or Comments?
If you have questions or problems with this site, email the County Coordinator. Please to not ask for specfic research on your family. I am unable to do your personal research. I do not live in MS and do not have access to additional records.