Pleasant Springs Presbyterian Church
Submitted by Bonnie Evans.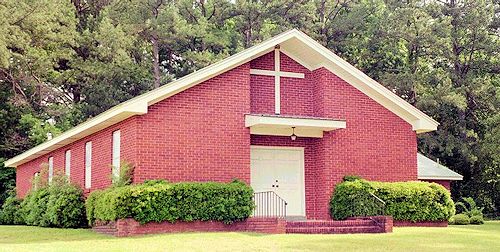 Thank you Gail Thompson for sending this information to us. Her source was: "History of Pleasant Springs Church, Presbyterian Church (USA) Dept. of History & Records Management Services." This document appears to be written circa 1930 (Marsha's note). This document was typed as written. Spelling errors in names were not corrected. All ( )parentheses are done by Marsha. All brackets [ ] were written in the text by the unknown author of the document.
On January 10, 1845, the Presbyterian people of this community came together and organized a group of worshipers known as Pleasant Springs Presbyterian Church. The organization derived its name from the location. The church stood on a small hill surrounded by lovely oaks, pines and other shrubbery. At the foot of the slope on the west side, and in a hollow among the trees, bubbled a lovely spring known as Pleasant Springs. This spring supplied several families with water. Today the spring is performing the same mission as it did eighty-five years ago, when our little church was organized. At that time, Mr. Gaston owned the property on which the spring is located, and today it belongs to Mr. Samuel Palmer.
At the time of the organization of the Presbyterian church, the Methodist Episcopals had a church located on these same grounds. They manifested their Christian spirit by letting the newly organized church share their building.
Among those enrolled at the time of the organization were Mr. & Mrs. Lindsy Henderson, Mr. & Mrs. William Gerrard, Mr. & Mrs. Henry Moore, Mrs. Gaston, and Mrs. White. Among the early members were, Mrs. Jane Fortune, Mr. & Mrs. Allie McDonald, Mr. & Mrs. William Kellis, Mr. & Mrs. Leven Stokes, Mr. & Mrs. Sam Breckenridge, Mr. Jeff Peden and family. Later came Mr. & Mrs.. Samuel Henderson, Mr. & Mrs. Wilson Henderson, MR. & Mrs. Bob Barrett, Mr. & Mrs. John McArthur, Mr. & Mrs. Johnnie Breckenridge, Mr. Henry Breckenridge, Miss Mag (sic) Rosamond, and Mr. & Mrs. J. A. Hutton, Mr. & Mrs. J. A. Hutton being parents of one of the builders of the present church.
Sometime before the Civil War, the members [just as we did recently], felt the need of a new church. They went to work in a cooperative spirit and a building was erected that stood until the erection of the one we now have. The old church, that is sacred to the many who are now scattered from Coast to Coast, was erected by Mr. Henry Breckenridge, assisted by Mr. Rountree (sic). Materials used in the building of the Old Church were not as easily obtained as building materials are today. Some of the frame work was hewn by hand from the best of timbers; requiring hours of hard labor. The remainder of the material was sawed with an old time sash saw, operated by a water mill; which was very slow work. Years later Mr. John McArthur hauled the ceiling from Meridian in wagons, and it was put up by Messrs Samuel Henderson and Kit McArthur.
Mr. Henry Moore deeded the land for the Church site during a period of time in which services were not being held in the church; it came near being lost. Mr. bill Kellis gave $10 to Mr. Heck Curry to get the deed straight, and the church was sound.
It was during the erection of this old building that an incident of interest occurred; a boy, John Gerrard, was going up to the church [having been sent on an errand], when very suddenly he heard pistol shots. He could see there were two men and apparently they were shooting at each other. He knew that Mr. Breckenridge was one of the men, and this frightened the boy so that he turned and went to Mr. Sam Breckenridge and told him that someone was at the church with his brother and they were shooting at each other. This frightened Mr. Breckenridge also and he seized his gun and went to the church as fast as his horse could carry him. In extreme suspense and excitement, he rushed up to the church---but only for a good laugh, for the two men had been shooting at a spot some distance off.
I have been told that during the "good old days" of which the older ones like to talk the Spirit of God dwelt in their hearts. The cooperation was fine and everything went along smoothly. They had a splendid Sunday School at times, with fine singing, which helped to give everyone a lift spiritually. The leader of the singing at one time was Mr. William Kellis, together with Mr. Ion Vandevender as bass singer. Mr. Johnnie Breckenridge was also a great help with the singing. It was during this period of time that the Methodist and Presbyterians again shared the same building. In these days when people had to walk, ride horse-back or go in ox-cart, the church was always full; and very often the congregation could not be seated.
Mr. Johnnie Breckenridge played a very important part in the history of Pleasant Springs Church. He, too, was an elder for quite a while, representing the church at Presbytery in a very effective way. He did outstanding work as superintendent of the Sunday School for many years. Rev. McClain was pastor at that time. He said that the fire-side Sunday School of which Mr. Breckenridge was superintendent was one of (the) best and most influential of which he knew. It added great strength to the church, even young people from other communities attended. Those who made mention of Mr. Breckenridge in connection with church work, never fail to mention the Sunday School. somehow, he and the Sunday School were inseparable in the minds of those who were young at that time. Thus the influence reached far and a lasting good was accomplished through God's strength and his efforts.
On Thursday morning, September 17, 1685 (I believe this to be an error, it should read 1865), the last link of the chain that bound the past to the present, in Pleasant Springs Church was broken. --- Lindsy Henderson passed from his labors and suffering on earth to his reward in Heaven. He was born in Rockingham County, NC on June 26, 1810. From there he moved to Alabama, where he married Mary Ann Breckenridge. In 1844 he moved with his family to Kemper County, Miss, and built his home not far from Pleasant Springs. Here he live forty-one years, and here he died as he lived ---in the living faith of Christ a personal Savior. Mr. & Mrs. Lindsy Henderson were among the names enrolled at the organization of the Presbyterian Church, which was only one year after their arrival here.
On the 6th of October 1860, Mr. Lindsey Henderson was chosen and ordained to the office of ruling elder; that he ruled his house well is evidenced by the fact that his children as they grew up endorsed the covenant made for them by their parents, and are all member of Christ's body through faith; that he ruled over the church for good, let this speak ---The church was weak and had been for years. Frequently the church would be without ministerial leadership for long periods at a time. During these periods he was often approached on the subject of changing his church relations. It being well understood that if he should lead, the flock would follow. His mild but firm reply was; "I am doing very well in the Presbyterian Church. I see no good reason for changing" By his firm stand it was kept alive, and for that reason our church exists today. ---he is dead, yet not dead, but lives; lives in the affection of his children, his grandchildren and many friends.
Three of his children are present today; Mr. Samuel Lindsey Henderson, age 87, Mrs. Janie Barrett, age 82, and Mrs. Hattie McArthur age 79. All are members of this church and have been since their girlhood and manhood. There is another sister, Mrs. Mary Spier, age 84, a noble woman who resides in Greenville, Ala. She was also a member of this church until she married and went to live at Snow Hill, Ala. Also there was a brother Mr. Wilson Henderson, who died about nine years ago, at the age of 76. He too was (unreadable). A brother, Richard, who was studying for the ministry, was killed in the service, during the Civil War. His Bible that was used for study at that time was given to his brother Samuel, who was also in service. Samuel's son, West is now in possession of the Bible, which is in very good condition.
Among those that have served as deacons in this church are Messrs. Lindsy Henderson, Bill Kellis and Gene McArthur. Mr. Kit McArthur looked after the finance of the church for years. At his death, Mr. W. J. Creekmore did this work until he moved away; at that time, Mr. J. D. Barrett was made Deacon, and has carried the work along faithfully. He is a grand-son of Lindsey Henderson and a son of Mrs. Janie Barrett. Harvey Breckenridge also served as Deacon, then as elder until he became a member of another church.
Some of the Elders of the church were as follows; Messrs. Jeff Peden, Allen McConald (probably McDonald), Sam Breckenridge and Dr. Ben McArthur. Mr. Lindsey Henderson took up the work in 1860; later, when a vacancy occurred, it was filled by Samuel Henderson, who remained elder until this day. Thus, father and son were serving together. A few years ago, a vacancy was filled by Samuel Henderson's son, West Henderson. Another instance of father and son serving together. At the death of Dr. J. D. Kellis, Mr. Wilson Henderson, (there is a Robert Wilson Henderson, died 1920, that is buried in Pleasant Springs Cemetery) another of Lindsey Henderson, became an Elder and served until his death a few years ago. This vacancy was filled by his son, Luther Henderson, who is also serving at this time.
Do you now see what the faith of one man sixty ears ago is still doing for our church? it is due to his faith and courage that our church stands today.
Mr. Johnnie Breckenridge was for a great many years Supt. of Sunday-School and played a mighty important part in the history of the Pleasant Springs Church. He also was an Elder for quite a while, representing the church at Presbytery in a very efficient way. His family, composed of the two boys and six girls, are still active in church work at Pleasant Springs.
Among the first Pastors of the old church were Rev. Hasard Smith, Rev. Henderson, Rev. Mooney. It was Mr. Mooney who named and baptized Mrs. Hattie McArthur. Soon after the war, cam Rev. Carothers, who united Mr. & Mrs. Samuel Henderson in wedlock, on Jan 10, 1874. Rev. McLean of Louisville, served the church faithfully for a number of years. He was a man that everyone loved. All of Mr. & Mrs. Samuel Henderson's children were baptized by Rev. McLean. Following Mr. McLean were Revs. Moss, Boiles, and Hill. Rev. Hill was a great worker. He died while serving this group of churches and was buried in DeKalb. [His wife was buried at DeKalb sometime this past winter]. Then cam Rev. Simpson, Rev. Worrel, Rev. Shaw, and Rev. Elliott. Rev. Elliott also died while serving this group of churches. He, too, was greatly liked and loved, and he did a splendid work here. Following Rev. Hill, cam Rev. Underwood; and then Rev. Archie Warren, a splendid worker and a home man whom everyone loved from childhood. Rev. Nicholson served (the) church well for several years, resulting in several additions to the church. One instance, father and grand-children came in the church at the same service. He, too, was a deep thinker and held the esteem of the people here. Last but not least, came Rev. G. E. Tucker, who each month, brings us God-sent spiritual messages. He has been instrumental in the erection of our new church. We, as members of this church are grateful to him for his untiring efforts put forth in behalf of a worship for us. The time and energy put into this work was unlimited. He saw that we got the very best for our money, from roof to the foundation, including inside furnishings. His contribution was liberal also.
We cannot forget to thank our constructors, Messr. Allie Hutton and Alex Gibson, who have been so patient and ready to ratify every wish of the members of this church, even in the minutest details of its construction. Mr. Hutton expressed his appreciation for being chosen as one of the contractors; he having spent his childhood days and the greater part of his life in this community. He expressed a very deep sentiment for the old church and its history. Are we proud of our new church? It is needless to say that we are. Our hearts are filled to overflowing with gratitude for it.
To each of you we extend a hearty welcome and an invitation to visit us frequently.
Signed
Historian of Auxiliary
(there was no signature noted)
After the erection of the new church there came about a period of rapid growth in the spiritual life of the community. The Sunday School, which had grown so very weak, grew into a real working school. The attendance at church services increased greatly and a goodly number was added to the church. The young people's work was organized under the leadership of Mrs. Flarra Marshburn and later under the direction of Mrs. West Henderson. This proved to be one of the most helpful of all the church activities. There the children and young people learned to take an active part in church services. It has one much to develop the boys and girls of the church and community, into splendid church and community leaders. This work was begun during the time that Rev. G E. Tucker served as pastor. Rev. Tucker served us faithfully for a number of years.
After Rev. Tucker came, Rev. J. D. Simpson as pastor of the church, soon after the arrival of Rev. and Mrs. Simpson, Mrs. Simpson met with the ladies of Pleasant Springs community in the home of Mrs. R. L. Henderson and organized the Ladies Auxiliary. This has proven to be one of the most efficient of all the church organizations. When there is a job to be done for the upbuilding of the community and the Glory of God, the Auxiliary is always there to take a leading part and see that it is put over in the very best possible way. The men of the community have been very loyal in backing up with their money, the things that the ladies were trying to do, when it was necessary.
The first officers of the auxiliary were; President, Mrs. J. W. Hailey; Secretary, Mrs. DeWayne Henderson; Treasurer, Mrs. DeWitt Barrett.
Among the things the Auxiliary has done the first year are; Bought a heather for the church. Sent $10 to the flood suffers. Provided clothing and books for children who could not have gone to...
This is all of the document that I have.