Scooba Baptist Church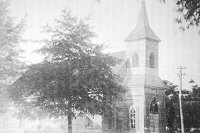 The original Scooba Baptist Church, built in 1906, was torn down in 1927.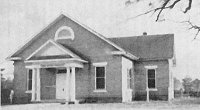 Scooba Baptist Church built in 1927. Note the wire fence to keep the cows out!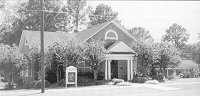 Scooba Baptist Church and educational annex, 1997.
The history of the Scooba Baptist Church began with an invitation to the pastor of the Shuqualak Baptist Church to come to the town of Scooba for the purpose of organizing and constituting a Baptist Church. Who the moving spirit was behind the desire for a Baptist church is not known. Records indicate that there had been a Baptist church in the old town of Scooba, some several miles east of the present town site; but this old church was abandoned some years after the town moved west with the railroad. Apparently the building of the old Baptist church was moved to new Scooba and became the Union Meetinghouse, the building in which this church met for its organization in November 1886.
The charter members were Mrs. Amelia Adams, Mrs. Mary H. Avery, Mr. and Mrs. T.W. Brame, Mr. and Mrs. W.M. Howell, Mrs. Harriet Hudson, Mr. and Mrs. Guy Jack, Mr. and Mrs. S.C. Trammill and Mr. Howell Whitsett.
There are no church records showing the building of the first church on the present site, but a newspaper clipping from 1906 stated that the cost of the building and the appointments totaled $2,000. The church was wired for electricity in 1919 and a baptistery built in 1920.
The present church was built in 1927 and redecorated in 1955. The baptistery painting was done in oils by Grace Bass Alford around 1949.
The property on the west side of the church was purchased and the W.H. Stuart home was used as Sunday School rooms. A new education building was built in 1976.
From "Kemper County, Mississippi - A Pictorial History", placed here with permission by the Kemper County Historical Commission.

Contact Us
Jeff Kemp - State Coordinator
Ann Allen Geoghegan or Denise Wells, Asst. State Coordinators
Questions or Comments?
If you have questions or problems with this site, email the County Coordinator. Please to not ask for specfic research on your family. I am unable to do your personal research. I do not live in MS and do not have access to additional records.