Fellowship/DeKalb Baptist Church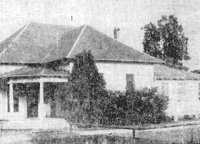 The old church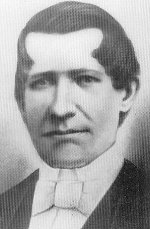 Rev. Michael Ross, first recorded pastor in minutes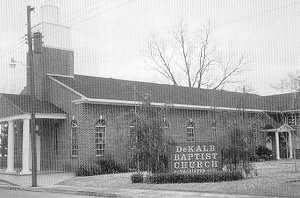 The New Church
Prior to 1837 Fellowship Church (now DeKalb Baptist) was organized. We assume the name Fellowship was used during our connection with the Choctaw Association. In 1840 Mississippi held their first convention at Wahalak, Mississippi.
In a book of recordings in the Kemper County Court House we found that in 1879 DeKalb Baptist Church was located in Section 27, Township 11, Rage 16, Book 80, pg. 181. There is no record from whom the property was obtained. It is assumed that Att Rush, or someone before him, sold or donated the land to the church. The reason for this belief is that all land surrounding the land on which the church was built was owned by Att Rush. In 1891 Mr. Rush was listed in the minutes as church clerk under Pastor B. L. Holden.
In 1847 the church post office was given to DeKalb, and in 1852 the church was referred to as the DeKalb Fellowship Church. To our regret, most of the church legal records were lost in a fire that destroyed the Kemper County Court House and other records. Other records were lost in a fire that destroyed the property of the church clerk.
From "Kemper County, Mississippi - A Pictorial History", placed here with permission by the Kemper County Historical Commission
Contact Us
Jeff Kemp - State Coordinator
Ann Allen Geoghegan or Denise Wells, Asst. State Coordinators
Questions or Comments?
If you have questions or problems with this site, email the County Coordinator. Please to not ask for specfic research on your family. I am unable to do your personal research. I do not live in MS and do not have access to additional records.