Scooba Presbyterian Church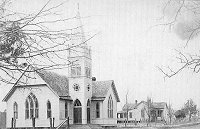 Early Scooba Presbyterian Church and Manse. Lightning caused the church to burn
Scooba Presbyterian Church
All records of Scooba Presbyterian Church prior to 1922 were destroyed by fire. The minister in 1922 was Rev. W.F. Harris. Elders were A. A. Hammack, R. P. Kimbrough and O. P. Kimbrough. A. A. Hammack was the stated clerk of the session and served until his death in December 1937. There were 73 resident communicants.
John L. Adams became clerk of the session in 1938 and served until his death in 1962. A.O. Hammack was clerk from 1962 until 1973. At that time C.C. Fleming became clerk. He still holds that position.
The church was destroyed by fire in 1946. Services were held at Scooba Methodist Church. Scooba Tabernacle and the Manse until the current building could be rebuilt in 1947. Also in 1946 Rev. John Reed was called as pastor. Ruling elders were J.L. Adams, A.O. Hammack and W. S. Carter. H. G. Frost was a deacon. There were 91 communicants on the roll.
From "Kemper County, Mississippi - A Pictorial History", placed here with permission by the Kemper County Historical Commission.

Contact Us
Jeff Kemp - State Coordinator
Ann Allen Geoghegan or Denise Wells, Asst. State Coordinators
Questions or Comments?
If you have questions or problems with this site, email the County Coordinator. Please to not ask for specfic research on your family. I am unable to do your personal research. I do not live in MS and do not have access to additional records.