Damascus Free Will Baptist Church
Submitted by Lea Johnson.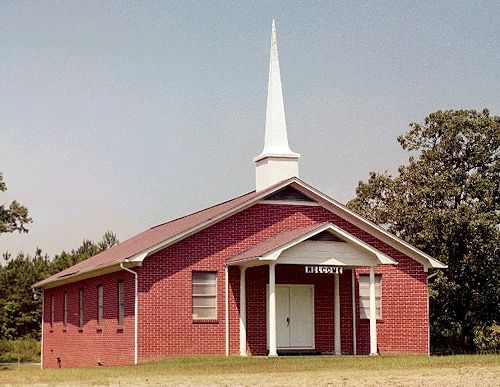 Submitted by Lea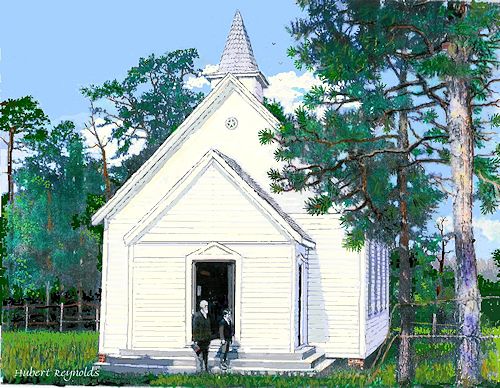 Painted and submitted
by Hubert Reynolds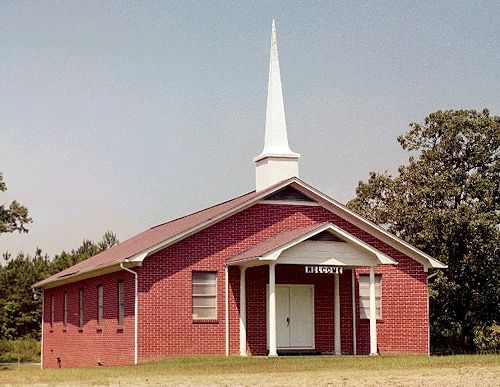 Submitted by Lea Johnson
First Damascus Free Will Baptist Church in Kemper Co., MS
Pictured on the steps of the church are the founder, Rev. Claiborne Finch Johnson, and his son, Buyan W. Johnson.
The Damascus Free Will Baptist Church was organized by the late Rev. Claiborne Finch Johnson approximately in 1884. He donated land for the church....which he built...., school and cemetery. The first services were held in the little school house on the property with Rev. Johnson as pastor. The church was completed in 1890 and he continued to pastor until his death March 30, 1916.
For several months after Rev. Johnson's death, Rev. Daniel Hollis, Rev. T.J. Adair and others from Alabama came to preach monthly.
At the age of 17, young Bro. Martin Luther Hollis from Vernon, Ala. came and accepted the church as fulltime pastor for several years. During this time, the church was very active. The church made much progress in all phases of church work under his leadership. A large number of new members were added to the roll and the entire community was very cooperative.
After Rev. Hollis was called to "greener pastures", he continued to come back every fifth Sunday to preach in order to keep the church going. He never failed to come back when someone needed him.
When his health began to fail, Rev. Hollis had to slow down and was pastoring only two churches at the time of his death. The Damascus Church was one of these. He preached his last sermon in Damascus Church before his death the following Monday.
On Wednesday, May 20, 1992, the old Damasucs Free Will Baptist Church building collasped, but not before the new building was completed, which was in 1978.
Due to the burning of Rev. Johnson's home, the orginal records were destroyed. This information was taken from church clerk .... Ira Hilliard Kynerd's .... records.
FORMER OFFICERS OF DAMASCUS FREE WILL BAPTIST CHURCH:
Deacons:
Bro. Mercer C. Johnson (deceased)
Bro. Johnson Rudolph Kynerd (deceased)
Bro. Claiborne Franklin Johnson (deceased)
Bro. S. Fred Chisolm (deceased)
Bro. E. O. Massey (deceased)
Bro. J. E. Smith (deceased)
Clerk:
Mrs. Mortimer Johnson McKee (deceased 1996)
(I want to thank my sister, Sylvia (Johnson) Kynerd for allowing me to publish this record of the church compiled from the clerk recordings.)

Contact Us
Jeff Kemp - State Coordinator
Ann Allen Geoghegan or Denise Wells, Asst. State Coordinators
Questions or Comments?
If you have questions or problems with this site, email the County Coordinator. Please to not ask for specfic research on your family. I am unable to do your personal research. I do not live in MS and do not have access to additional records.