Pleasant Ridge Methodist Church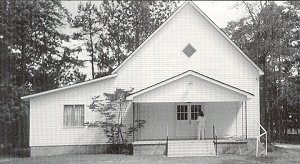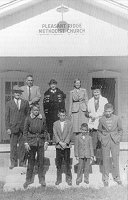 Pleasant Ridge Church is located on Highway 39 approximately six miles from DeKalb. This serene church has offered many years of Christian fellowship to the members and the community.
Masten Crawford, born in Scotland, married Charlotte Duke from Scotland before coming to America. He once owned approximately 1,000 acres of land in the Kipling Community.
The Pleasant Ridge Methodist Church was organized in 1837 by Rev. Maston Crawford, who served as its first pastor.
Pleasant Ridge was in the Kemper Charge until 1844 and pastors during that time were: 1838- R. M. Crowson; 1839- Richmond H. Camp; 1840- W. J. Wilson; 1841- Humphrey Williamson; 1842 - Leroy Massengale and Thomas Armstrong; 1843- Humphrey Williamson and John W. Ellis.
The county charge was evidently reorganized in 1843 and Pleasant Ridge came into the DeKalb Charge in 1844. Pastors from were: 1844- Hillard J. Hunter; 1845-46 C. C. Calloway; 1847- Walton J. Reaves; 1848- Robert S. Finley; 1849- Theopolis Moody; 1850- John W. Phillis, Jr.; 1851- Allen M. Box; 1852-James A. Clement; 1853- Cornelius W. McLeod and John W. Cook; 1854- George W. Tucker; 1855-56-John W. Ellis, Jr.; 1857- James R. Thomas; 1858- William A. Montgomery; 1860- Silas H. Cox and Orlando P. Thomas; 1861-62- Francis Walker and J. J. Grace; 1863- Andrew J. Coleman; 1865- Lilliam Ira Powers, 1866- James M. Gann; 1867-70 no record; 1871-73 Daniel G. W. Ellis; 1874-supplied; 1875-76- Andrew J. Coleman; 1877- James M. Gann; 1879- A. B. Nicholson; 1880-81- W. P. Andrews; 1882-85- D. G. Ellis; 1886- R. F. Witt; 1887-90- W. G. Backus; 1891-94- R. A. Breeland; 1895- H. W. Van Hook; 1896-98- G. H. Thompson; 1899- Curtis D. Cecil.

From "Kemper County, Mississippi - A Pictorial History", placed here with permission by the Kemper County Historical Commission.
Contact Us
Jeff Kemp - State Coordinator
Ann Allen Geoghegan or Denise Wells, Asst. State Coordinators
Questions or Comments?
If you have questions or problems with this site, email the County Coordinator. Please to not ask for specfic research on your family. I am unable to do your personal research. I do not live in MS and do not have access to additional records.