Union Missionary Baptist Church
Submitted by Henry R. Leggette
Union Missionary Baptist Church, Kemper Springs, was first built April 9, 1875 by Rev. Henry Watson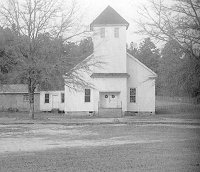 From "Kemper County, Mississippi - A Pictorial History", placed here with permission by the Kemper County Historical Commission.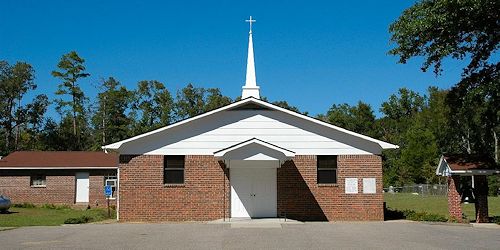 Picture of the original Union Missionary Baptist Church located in Kemper Springs community shot by Henry R. Leggette
Union Missionary Baptist Church that was on the front cover of my book. I was in Kemper Springs Community this week (Sept. 2006) and I shot a photo of the current church.
Please make a note about this photo. The small housing to the very right of the current church is to safe guard the old bell which was used many, many times in the old church. The expense for the installation was all provided by Omera Alexzine Baylor, Esther D. Baylor and Billy Mark Baylor, Jr.
Contact Us
Jeff Kemp - State Coordinator
Ann Allen Geoghegan or Denise Wells, Asst. State Coordinators
Questions or Comments?
If you have questions or problems with this site, email the County Coordinator. Please to not ask for specfic research on your family. I am unable to do your personal research. I do not live in MS and do not have access to additional records.