Bird, Ebenezer P.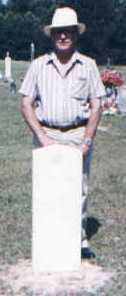 Paul Kines of the Jefferson Davis Camp No. 786 of Pascagoula, MS, recently erected a tombstone on the grave of his great, great grandfather, Ebenezer P. Bird, who served with Co. D 1st MS Regiment. Pictured are compatriot Kines and the stone he erected on June 7, 1987, 102 years after his ancestor's passing. -submitted by Paul L. Kines
Contact Us
Jeff Kemp - State Coordinator
Ann Allen Geoghegan or Denise Wells, Asst. State Coordinators
Questions or Comments?
If you have questions or problems with this site, email the County Coordinator. Please to not ask for specfic research on your family. I am unable to do your personal research. I do not live in MS and do not have access to additional records.