Johnson, Claiborne Finch, Rev.
as submitted by Lea Johnson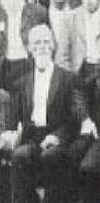 Goodspeed's of Mississippi....Biographical and Historical , Page 1926, 1890
In June, 1862, he enlisted in the cause of the South, joining company K. 43d Mississippi volunteer infantry. He was in the siege of Vicksburg, where he was captured, at Iuka, and in many lesser engagements. In July, 1863, he was honorably discharged, when he returned to his home. He was married January 1, 1862, to Sarah A. Jackson, who was born in NC in 1837. Her parents, Needham and Frances (Bass) Jackson, were also natives of NC, and removed to Miss. when she was a young child. Her father died in Kemper county in 1880, and her mother is still living at the age of eighty years.
Mr. and Mrs. Johnson are the parents of four children: Bunyan W., Mary E., who married I. H. Kinerd, and is the mother of two children, Anna and Spurgean; Sidney O, and Clayburn M. Mr. Johnson entered the ministry in 1880, but was not ordained until 1882; he is now a local minister of the Freewill Baptist church, and is state organizer of Mississippi. He owns a large tract of land, comprising about 840 acres, a large portion of which is under cultivation. In 1880 he made some investments in the mercantile trade and has been very successful. Since the war he has succeeded in accumulating some valuable property, and is one of the most enterprising of Kemper County's citizens. Politically he affiliates with the Republican party. He is a man of pronounced opinions, firm in his convictions of right and wrong and is well worthy of the esteem to which he is held.
~~~~~~~~~~~~~~~
I have clipped one picture from the Confederate Reunion of 1903 and am enclosing it and 2 other pictures I have of my great grandfather, Rev. Claiborne Finch Johnson. He served in the Confederacy and lived the latter part of his life in Kemper County. He died in 1916, so, of all the men in this picture, I feel the one I have clipped and enlarged could very possibly be him. Please study the photographs and see what you think. (I think he looks quite similar! - Marsha)
Rev. Johnson built, and preached in, 4 churches in Kemper County from 1881 until his death in 1916. 
For further information on Claiborne Johnson, click here.
Contact Us
Jeff Kemp - State Coordinator
Ann Allen Geoghegan or Denise Wells, Asst. State Coordinators
Questions or Comments?
If you have questions or problems with this site, email the County Coordinator. Please to not ask for specfic research on your family. I am unable to do your personal research. I do not live in MS and do not have access to additional records.