Matlock, James Henry & Robert Farriace
Submitted by Carol
James Henry served in Co C from August 1861 until he was paroled at Greensboro, NC in April 1865. He served in the Calvary until May of 1862. Although he remained assigned to the Jeff Davis Legion, he was detailed May 1, 1862 as a hospital steward to a field hospital near Hamilton's Crossing, VA,. which was at the Richmond, Fredericksburg, Potomac Railroad. In January 1863 he was detailed as a Apothecary (pharmacists). CSA records show he received extra duty for his services rendered at the hospital. His last present muster at the hospital was August 31, 1864 as he was shown absent for September and October 1864. The next record dated 1865 shows him paroled and mustered out at Greensboro, NC.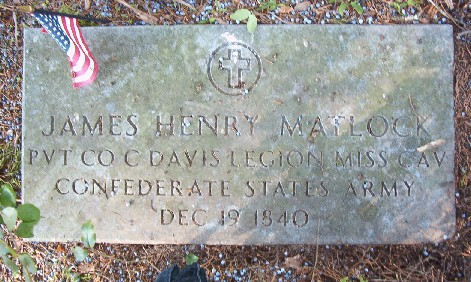 James Henry Matlock's tombstone
See also his gravesite image, which shows the original tombstone
Robert Farriace traveled 240 miles to enlisted for 1 year in the 18th Regiment Mississippi Volunteers at age 16 at Corinth, MS on June 4, 1861. He was on the hospital list of General Hospital in Charlottesville, VA on July 26, 1861. CSA records show he was discharged September 6, 1862 because he was underage. In January 1863 his entry was again canceled to Company C Jeff Davis Legion of Calvary where his older brother James was serving as a medic in a hospital near Hamilton's Crossing, VA. He enlisted for 3 years on March 1, 1863 at Honeyville, VA and is shown present on the company muster roll through August 1863. In August 1863 he is shown as being absent on a horse furlough. He returned to the company after being absent for 94 days on November 15, 1863. CSA records show him present through August 31, 1864. Apparently he was wounded after that and died April 16, 1865 between Richmond and Fredericksburg.
I also have a picture of the tombstone of a Capt. G Albert Roberts Co K. JDL from a Eufaula, AL cemetery

Contact Us
Jeff Kemp - State Coordinator
Ann Allen Geoghegan or Denise Wells, Asst. State Coordinators
Questions or Comments?
If you have questions or problems with this site, email the County Coordinator. Please to not ask for specfic research on your family. I am unable to do your personal research. I do not live in MS and do not have access to additional records.