Avery, Mary S.
Submitted by Dick Stewart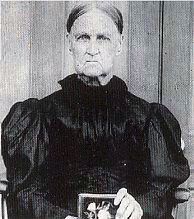 Mary H. Stewart Avery (1813 - 1900) was the wife of Allen Avery who built the first hotel in Scooba. She was the daughter of Solomon B. and Sarah C. Stewart.
She was a Charter Member of Scooba Baptist Church (about 1886, I believe) according to the Scooba Baptist Church records. There is a different picture of her in the back of the church. 
Contact Us
Jeff Kemp - State Coordinator
Ann Allen Geoghegan or Denise Wells, Asst. State Coordinators
Questions or Comments?
If you have questions or problems with this site, email the County Coordinator. Please to not ask for specfic research on your family. I am unable to do your personal research. I do not live in MS and do not have access to additional records.