Germany, William Daniel
Submitted by Len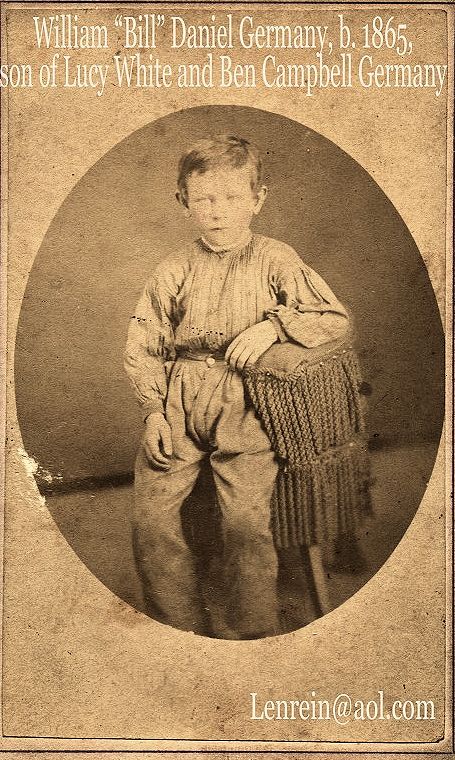 This is a photo of my great grandfather William Daniel "Bill" Germany when he was five years old... the photo was taken in 1870. Bill was the son of Ben Campbell Germany (1828-1873) and Lucy White (1836-1881/1882) who had a farm a few miles west of Moscow along the south-side of the General Jackson Road.
Bill's parents Lucy White and Ben Campbell Germany's parents settled in Kemper County in the early 1840s... and Ben Campbell Germany served in both the 5th MS State Troops and then Co I, 6th MS Cavalry Regiment during the "Civil War".
A few of Bill's elder sister Martha "Mat" (Germany) Drake's descendants
still live in Kemper County and descendants of his elder sister Mary Jane (Germany) Hatcher live in nearby Winston County. Bill's younger sister Matilda E. Germany married A.T.L Watkins and moved to Neshoba County.

Contact Us
Jeff Kemp - State Coordinator
Ann Allen Geoghegan or Denise Wells, Asst. State Coordinators
Questions or Comments?
If you have questions or problems with this site, email the County Coordinator. Please to not ask for specfic research on your family. I am unable to do your personal research. I do not live in MS and do not have access to additional records.