Gully, Champ M.

Dr. Champ Mitchell Gully's graduation picture from the University of Tennessee Medical School

Dr. Champ Mitchell Gully and Rev. J. K. Hegwood on "Doc" Day, a day set aside by Kemper countians for his many years of faithful service to the county. He delivered over 3,800 babies in his medical career.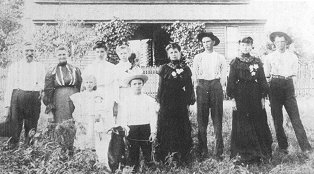 Dr. and Mrs. Champ Mitchell Gully (nee Mary Edna McRae) and oldest child Clarke Gully at their home in the Preston Community.
From "Kemper County, Mississippi - A Pictorial History", placed here with permission by the Kemper County Historical Commission.
Contact Us
Jeff Kemp - State Coordinator
Ann Allen Geoghegan or Denise Wells, Asst. State Coordinators
Questions or Comments?
If you have questions or problems with this site, email the County Coordinator. Please to not ask for specfic research on your family. I am unable to do your personal research. I do not live in MS and do not have access to additional records.