Davis, Absalom Pinkney
Story submitted by: Opal Hopper Green
A.P. Davis, the only son of Thomas and Holland Davis, was born April 11, 1843, on the north bank of Pawticfaw Creek, six and one-half miles south of DeKalb
In August 1861 he enlisted in the Confederate army. He was a private, Company I, Fifth Regiment.
On October 17, 1865, he married Mary Jackson, daughter of Needham and Francis Jackson. Children born to this union were: Roxanna Holland (August 11, 1866); John Thomas (January 14, 1868-August 7, 1889); Harriett Cornelia (December 7, 1871); James Arnett (August 25, 1873; Mary Olive (June 8, 1875); Absalom Pinkney (December 20, 1876- February 25, 1897); Hood (September 12, 1878); O. Dewitt (July 29, 1880); and C. Vernon (August 29, 1882).
On March 22, 1883, he married Sarah Amanda McCoy the daughter of Redden McCoy. Children born to this union were: Dan Pearley (February 9, 1884); infant son (April 4-7, 1885); Barbara Amanda (December 5, 1886); Peggy Jones (November 28, 1889); and Mary Annie Bett (May 11, 1893).
He is buried in the Liberty Cemetery in Kemper County.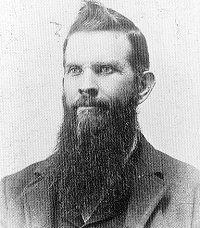 Absalom Pinkney Davis
Mississippi Senate
1892, 1894
Hood Davis and brother A.P. Davis, Jr., of the Key Town Community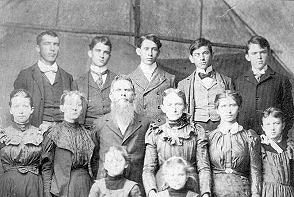 The family of Absalom P. Davis. Back row from left: James Arnett, Hood, Dewitt, Vernon and Dan Pearley. Second row: Roxame Holland, Mary Olive, Absalom P. Davis, Amanda McCoy, Harriet Cornelia and Barbara Amanda. Front row: Peggy Jones and Mary Annie Beth.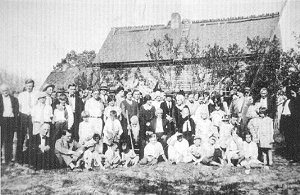 A.P. Davis celebrating his birthday with his family at the old home place in the Key Town Community of Kemper County.
From "Kemper County, Mississippi - A Pictorial History", placed here with permission by the Kemper County Historical Commission.
Contact Us
Jeff Kemp - State Coordinator
Ann Allen Geoghegan or Denise Wells, Asst. State Coordinators
Questions or Comments?
If you have questions or problems with this site, email the County Coordinator. Please to not ask for specfic research on your family. I am unable to do your personal research. I do not live in MS and do not have access to additional records.