Hull, James Wallace
James Wallace Hull, father of Cal H. Hull, and husband of Winifred Sarah Gully, came to Kemper County from Clinton, Connecticut in the early 1830's.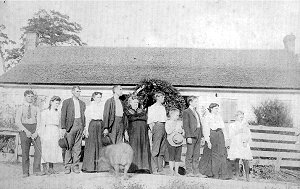 Cal H. and Sally Gully Hull's home, two and one-half miles west of DeKalb off of the Old Jackson Road. Left to right: Ethel Hull, Mary Hull Peden, Jim Hull, Daisy Hull Peden, Cal H. Hull, Sally Gully Hull, Phil Hull, Sam Hull, Maury Hull, Janie Hull Eldridge and Myra Hull Hodges-Myers.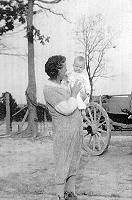 Mary Hull Peden and baby at their home place.
From "Kemper County, Mississippi - A Pictorial History", placed here with permission by the Kemper County Historical Commission.
The Hull Family
Submitted by Paula Hall
We are not sure where this article was first printed. If you know the origination of this article, please let me know.
James Wallace Hull (November 13, 1814-December 23, 1867), a native of Killingworth, Connecticut (present day Clinton. Connecticut) , came to Kemper County between 1840-1842. The house was built in the early part of 1842 by James Wallace Hull, a prominent local politician and planter during the antebellum period. The Hull House is located on the south side of the Old Jackson Road about two miles west-southwest of DeKalb. The house, still standing today, though in a deteriorating condition, is situated on a ridge adjacent to Hull Branch, a small creek that was obviously named for the Hull family. The house is a one-story dogtrot house with full front and rear galleries that were later partially enclosed to create more rooms. The two main rooms of the house are made of large planked pine logs that are square notched and put together with wooden pegs. The original kitchen (no longer standing), was a separate room from the main house and was also made of large planked pine logs.
The Hull House is owned today by Mrs. Webby Hull whose late husband, Johnnie M. Hull, was a great-grandson of James Wallace Hull. James Wallace Hull married Winifred Sarah Gully on December 22, 1842. Winifred (October 31, 1823-November 29, 1966) was a native of North Carolina and the daughter of Ezekial S. and Penelope Gully. The Gullys were a prominent family who had settled in Kemper County in the 1830s. Hull undoubtedly purchased the farmland on which his home was constructed about the time of his arrival in the county .This can only be assumed, however , because deed records do not survive for the county prior to the late 1870s, although an 1854 Kemper County Land Roll indicates that Hull owned the land on which the house is situated by that year. In 1860 his real estate holdings totaled 1,240 acres.
James Wallace Hull, besides being a farmer and a "homespun lawyer" was a county office holder for virtually the entire time that he resided in Kemper County. He first served eight years as Sheriff, after which he was Circuit Clerk for sixteen years. He served as Sheriff of the County from 1844-1852 and was Circuit Clerk from 1852 to the time of his death in 1867.
Following the 1867 death of James Wallace Hull, his family continued to reside in their home and farm the land. In 1870, the U.S. Census of population indicates that his widow: Winifred, was living there with most of her children, some of them grown.
The children of James Wallace Hull and Winifred Sarah Gully Hull, all born; in the home, were: Philander and George (who never married); Mary Elizabeth, who married John Adams; Calvin H. , who married Sally Gully; Martha Virginia (Jennie) , who married Charlie Sinclair; Winifred Penelope (Penny), who married Jim Overstreet; Jesse G., who married Martha Jane Stephens; Philetta, who married John Campbell; Ophelia, who married Jerimiah (Jerry) Watkins; Nace, who married Lula Hardin; and John Wallace, who married Molly Stephens. Many of the descendants of these children still reside in Kemper County.
In 1891, the other children in the family gave their shares in the family farm to the two youngest sons, John Wallace and Nace, in recognition of the fact that they had lived with their mother and taken care of her for years. Nace and his wife, Lula, and their son, Nace Hardin Hull, continued to live in the house into the early 1900s. After Nace's. death in 1915, his widow and son continued to live in the house for a few years and then moved into town in DeKalb. After they moved away from the house, the place was occupied by different people until 1977. After this time the house has no longer been lived in. . The Hull House was the residence of one of Kemper County's most prominent early settlers and is one of only a small number of this type of architectural structures remaining in Kemper County. In addition to its historical associations, the building is architecturally significant as a rare and intact surviving example of the log dogtrot house, once quite numerous in Mississippi, which were constructed by early settlers in the region.
Some of the members of the Hull family still own approximately 750 acres of the land that James Wallace Hull purchased when he came to Kemper County in the 1840's.
Questions or Comments?
If you have questions or problems with this site, email the County Coordinator. Please to not ask for specfic research on your family. I am unable to do your personal research. I do not live in MS and do not have access to additional records.